Create a free account to unlock this article!
Get Started
Already a subscriber? Log In
As we near the middle of April, it's becoming clearer who the major players are in Major League Soccer and which teams have plenty of work to do if they are to earn a playoff berth. A draw against the Western Conference's top finisher in 2018 would be seen as a positive result by most clubs, let alone one in its inaugural year in the league.
Given the circumstances, however, you can't fault FC Cincinnati players and fans for feeling like they should have come away with more than a point against Sporting KC. Heavy rotation following their 5-0 demolition at the hands of Monterrey in the Concacaf Champions league meant that the visitors rested eight of their normal starters—Ilie Sánchez, Johnny Russell, and Andreu Fontás were the only three players to pick up starts in both affairs.
In a game where both sides can point to missed opportunities, we learned a bit more about the league's newest addition and what they can address moving forward.
Cincinnati's early pressure a bright spot
The home side have gained a reputation for absorbing pressure and hitting on the counter in their short MLS history. However, they came out flying in this one and Kenny Saief nearly put them ahead with less than a minute gone.
#FCCincy putting the pressure on early!#CINvSKC | 0-0
https://t.co/8L8bGrZ8NA

— FC Cincinnati (@fccincinnati) April 7, 2019
It wouldn't be much longer until Darren Mattocks coolly finished from the penalty spot (19') after Roland Lamah was brought down in the box. Much of the team's early success can be attributed to organized and relentless pressure that caused the opposition's back line to surrender opportunities.
It's a case of a glass half full for the Orange-and-Blue, with the multiple looks at goal a promising sign despite the inability to put the game away.
"Even though we're a bit disappointed, we take a lot of positives from this game because we created a number of chances," Mattocks told media after the game. "Maybe the next day we score four, five goals. That's a really big positive takeaway from this game."
Depth concerns putting a damper on early results
Injuries, international duty, and suspensions have already had their say in the club's young season. The latest setback came as striker Fanendo Adi was stopped early Sunday morning and booked for speeding, driving while intoxicated, and doing so without proper identification. He subsequently entered the league's Substance Abuse and Behavioral Health Program.
The situation was worsened when Lamah was forced due exit at the half with a calf issue. Instead of introducing offensive weapons in the hopes of grabbing a victory at home, Cincy were forced to take a different route due to a lack of options as the second half progressed.
Defensive midfielders emerged as Eric Alexander came on for Saief in the 77th and Caleb Stanko for Mattocks just five minutes later. Alexander and Stanko are quality players in their own rights, but Cincinnati clearly suffered on the wings in the closing stages and the quality chances became few and far between.
Koch admitted afterward that the changes weren't necessarily ideal, saying "You would love to see two or three attacking substitutions, but we were a little handcuffed today in terms of how we managed the game." A return to full strength sooner rather than later will be pivotal if they are to keep pace in the East.
"Left side, strong side"
While Cincy may be a long way from achieving similar glory to Denzel Washington's squad in Remember the Titans, there is a striking similarity between the two groups.
Through the opening five matches Cincinnati's play has favored the left side (40 percent) and Sunday's outing featured an even larger dose. A whopping 50 percent of attacking moves came down the left-hand side of the field, compared to 20 percent through the middle and 30 percent on the right. A look at the final products of key passes and shots delineates the story of the day.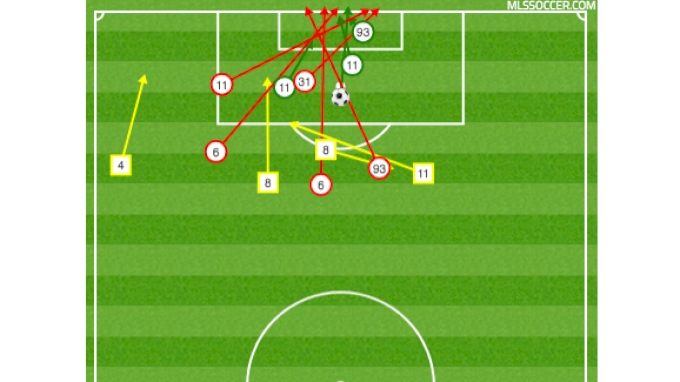 For Cincinnati, it couldn't get any more difficult as they are now tasked with a trip to Banc of California Stadium to take on league leaders LAFC. Bob Bradley's men continued to score goals for fun with a 4-0 spanking of D.C. United last time out, bringing their tally to 19 on the year. One Carlos Vela has his own interpretation of "left side, strong side"…
Carlos Vela and his left foot. Name a more iconic duo. #DCvLAFC https://t.co/Nkmrm4Dkym

— Major League Soccer (@MLS) April 6, 2019