Dr Pepper Dallas Cup 2019
Dr Pepper Dallas Cup: FC Dallas Helping To Make North Texas A Soccer Hotbed
Dr Pepper Dallas Cup: FC Dallas Helping To Make North Texas A Soccer Hotbed
Ahead of the upcoming Dr. Pepper Dallas Cup, FloFC's dives deep into why North Texas is becoming a soccer hotbed.
Apr 4, 2019
by Zach Lowy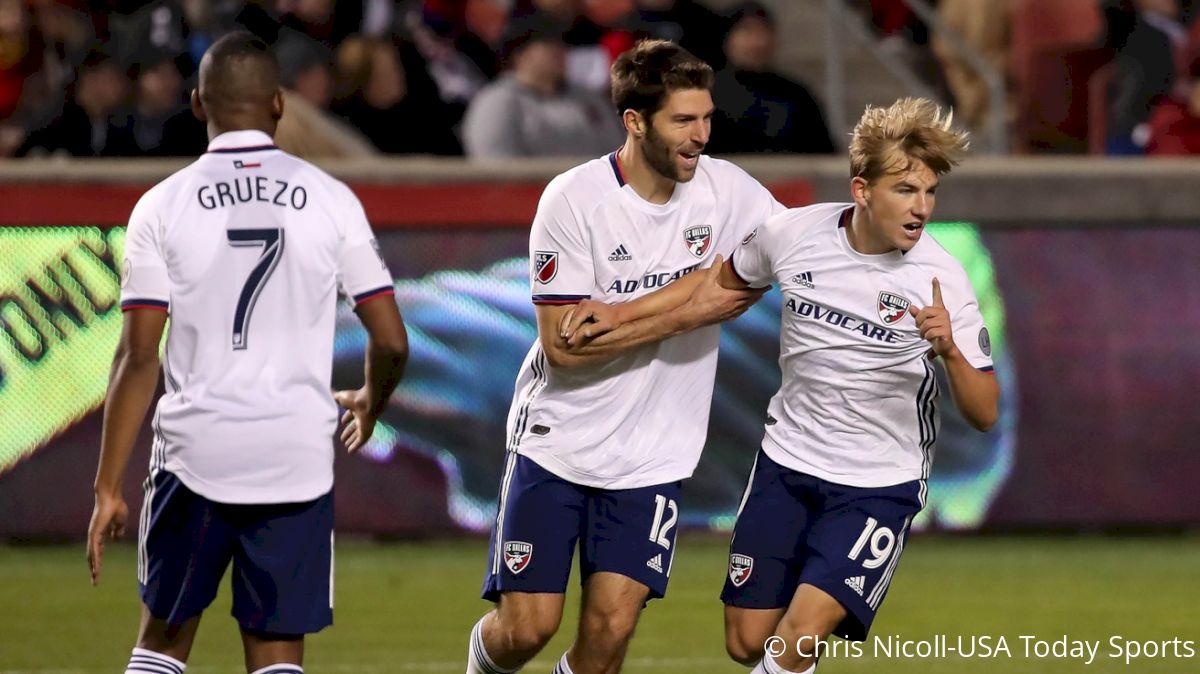 This month, 12 teams spanning seven countries, six time zones, and four continents will take part in the 40th edition of the Dr Pepper Dallas Cup, the oldest youth soccer tournament in the nation. The Cup, which takes place April 14-21, holds tournaments for age groups ranging from U-13 to U-19.
The likes of Wayne Rooney, Rafael Márquez, and even NBA Hall of Famer Hakeem Olajuwon, competed in the Cup before establishing themselves at the professional level. But what makes the Dallas Cup one of the most prestigious youth tournaments in the world? The answer lies in the region's soccer culture.
When one thinks of areas teeming in hardcore soccer culture, one thinks of cities like Buenos Aires, Madrid, and Liverpool—all of which have seen their teams hoist the Dallas Cup throughout the tournament's fabled history. When one thinks of North Texas, one thinks of barbecue, Roy Orbison, the Fort Worth Stockyards, but soccer isn't one of the first things to come to mind.
Watch the Dr Pepper Dallas Cup LIVE on FloFC, April 18-21
And yet, through the result of circumstances—both planned and unplanned—North Texas is one of the most bountiful soccer hotbeds in America. Part of the reason stems from the structure and philosophy of FC Dallas, the only MLS team in the region. While every team in the league likes to boast about their academy and their homegrown success stories, few, if any, can walk the walk like FC Dallas.
The club, which currently sit fourth in the Western Conference, have furthered their trust in their youth this season under new manager Luchi Gonzalez. During last weekend's victory over Real Salt Lake, Gonzalez included five homegrown players in the starting lineup for the second straight match, and the week prior, he gave 17-year-old Thomas Roberts his first team debut in a 2-1 victory against the Colorado Rapids. Dallas lead the league in homegrown player minutes, and it's no surprise that they boast the youngest roster in MLS. What is surprising is that they have the results and performances to back up their philosophy.
Paxton Pomykal, the brightest breakout star from the season's opening weeks, became the first homegrown player in the club's history to score a brace in the 4-2 victory over Real Salt Lake. Jesús Ferreira, another homegrown player, scored the fourth goal to put the game out of reach. Those two have been pleasant surprises in the club's promising start to the season, but they're only the tip of the iceberg. Homegrown right back Reggie Cannon has started all but one of Dallas's games this season. Jesse González, their homegrown goalkeeper, hasn't missed a minute.
Contrast that with Atlanta United, currently the last-place team in the Eastern Conference. Between the talented homegrown trio of George Bello, Andrew Carleton, and Chris Goslin, not a single one have started in the league this season. On the other hand, Mikey Ambrose, who spent four seasons at the FC Dallas Development Academy, has been a regular for Frank de Boer's side. Sure, it's unrealistic to start teenagers every game when you've got an MLS Cup to defend, but after zero wins in the first four league matches, could "playing the kids" really be any worse?
Admittedly, de Boer will want to protect his reputation from decaying even more after failed stints with Inter and Crystal Palace, as the Atlanta fan base grows more impatient. But while the Dutchman has failed to deliver victories in the Big Peach, Luchi is fulfilling his club's objective of pushing through homegrown players to the first team, an objective that is mandated by club owners Clark and Dan Hunt.
The Hunt brothers, following in the footsteps of their late father Lamar, sought to achieve both sporting and financial success via their academy. In 2008, the academy's inaugural year, they brought in Óscar Pareja, who played for the club between 1998 and 2005 when they were originally known as the Dallas Burn, as director of player development. Pareja spent the next few years building the academy, and by 2011, U.S. Soccer ranked it as the best in the nation, beating out over 70 clubs for the top spot.
While building the academy from scratch, the Medellín native was also building a name for himself as one of the best youth coaches in the nation. In 2010-11, Pareja was named as the U-18 Academy Coach of the Year and took FC Dallas' U-18s to a runner-up finish at the national championship. He also served as an assistant coach to first team manager Schellas Hyndman, but when the Colorado Rapids came calling, Pareja couldn't resist, jumping at his first chance to manage an MLS team.
When Pareja left for Colorado, the Hunts filled his role at the academy with Luchi, who blossomed at Dallas-based Southern Methodist University before going on to have an unremarkable playing career at the professional level. Luchi improved and added to the club's model, seeking to inculcate players in the club's philosophy, from the FC Dallas Juniors Academy, which takes on boys and girls from 6 to 10 years of age, all the way up to the first team.
In a 2016 interview with MLSsoccer.com, Luchi explained that his goal "was to create a community of soccer" and from that, to "develop a community of lifelong fans for the club, family members that are going to grow up fans."
That community now spans nationalities and ethnicities, and in truth, it isn't just limited to FC Dallas' youth setup. Lee Nguyen, whose parents emigrated to North Texas just before the end of the Vietnam War, polished his skills at the Dallas Texans Soccer Club, a prestigious soccer academy, before becoming one of the most productive midfielders in MLS. When it comes to Dallas soccer, diversity pays dividends.
"I grew up playing on teams with so many different cultures," said Arman Kafai, an FC Dallas beat writer who was raised in North Texas. "I was influenced at a young age to play because of the diversity and my friends pushing me to."
Kellyn Acosta, the son of a Japanese father and a Grenadian mother, came through the FC Dallas academy before becoming a first team regular for both FC Dallas and the U.S. Men's National Team. But the biggest single influence in Acosta's development was José Márcio Pereira da Silva, or "Zequinha," a retired Brazilian footballer who settled in the Dallas area after his playing career ended. Acosta took private lessons at Zequinha's soccer skills school, and learned the technical skills that saw him rise from the academy all the way to the top level.
Before breaking into the starting lineup this season, Jesús Ferreira originally entered Dallas' academy when his father David, a former Colombia international, signed for the first team in 2009. When David returned to his native Colombia in 2014, Jesús, still only 13 at the time, decided to stay put. He has yet to receive a U.S. passport, meaning he may not be able to play for the U.S. during this summer's U-20 World Cup, but Colombia, who will also contest the tournament, have yet to call him up.
Pareja, who played for the Colombian national team, helped bring Colombians into Dallas' first team and youth structure. Ferreira, Michael Barrios, and Fabián Castillo are just a handful of the Colombian players who have arrived in the Big D under Pareja. Both Pareja and Luchi (who is the son of a Peruvian immigrant) have played vital roles in bringing Latino players through the Dallas youth system.
With Dallas' Hispanic population (composing about 45 percent of the city's overall population) skyrocketing, it's been of vital importance that the club take advantage of the area's booming diversity. Latinos are on track to become the largest demographic group in the state by 2022, and the region's melting pot has helped North Texas become one of the leading soccer hotbeds in the U.S.
"You get that flair from the Hispanic community," Luchi said. "You have athletes with size and speed ... but you also get kids here who are structured, with discipline and who are eager to learn."
Indeed, the prevalence of Latino soccer leagues has injected flair and diversity into the DNA of not just the region, but the country. Both Clint Dempsey, who grew up in East Texas, and Landon Donovan, who grew up in Southern California, tested themselves in Latino leagues during their formative years, playing against grown men and learning a style of football that is rarely found in American academies.
"The nature of a kickaround is that you can't legislate it, you can't put it into practice," MARCA writer and Austin native Arch Bell said. "A lot of players that become world class from Brazil and Argentina, they kick around everyday.... I think some of the Texans that have developed, they're often playing for fun, they're playing in a bumpy pitch."
With so many Hispanics moving to the area for greater employment opportunities, North Texas has seen its diversity flourish from all corners of Latin America. In 2001, Ramiro and Rogelio Funes Mori emigrated from Mendoza, Argentina, to Dallas, as their family sought to escape their home country's ongoing political and economic turmoil. The twin brothers joined the Dallas youth system after impressing in Sueño MLS, MLS's premier national tryout; Rogelio won the contest while Ramiro reached the final. However, after failing to attain a professional contract with the club, the brothers returned to Argentina. Ramiro would go on to win the Copa Libertadores with River Plate and reach the Copa América Final with Argentina, while Rogelio is currently one of the top scorers in Liga MX with Monterrey.
As a result of the region's diversity, plenty of dual nationality tugs-of-war have emerged for FC Dallas players. Mexico and the United States fought over Dallas products Jesse González and Alejandro Zendejas, and plenty of more fights will likely emerge, such as over 16-year-old center back Nico Carrera, who grew up in Pachuca before joining Dallas' youth system, and Ferreira, who has yet to decide between Colombia and the U.S.
The next tug of war will center on Ricardo Pepi. Pepi left El Paso for Dallas at age 12, and last week, while playing on loan for Dallas' USL feeder club North Texas, he marked his professional debut with a hat-trick. While the 16-year-old was called up for the U.S. U-17's this week, he still has a long way to go before being capped by either Mexico or the U.S. senior team. Whatever he chooses, he'll soon have a chance to hone his skills for FC Dallas' first team, a club that, against the odds, has carved out a respectable community for itself.
When the Dallas Burn were founded on June 6, 1995, they automatically found themselves in an uphill battle to win popularity, make a name for themselves, and to emerge from the shadow of five major sporting institutions.
By the time the team rebranded as FC Dallas in 2005, the Dallas Stars had already won the Stanley Cup, the Dallas Cowboys had won the most Super Bowls in NFL history, the Texas Rangers were challenging for the MLB playoffs with Michael Young and Alfonso Soriano, and the Dallas Mavericks were about to win their first ring in franchise history. Even Texas Christian University's football team had a stronger following, and with the Horned Frogs contesting bowl games every year, that still hasn't changed.
While Dallas have built one of the most bountiful academies in MLS, they're still struggling as far as attendance goes: last season, they ranked as the fourth-lowest attendance in MLS, with an average of 15,112 people per game.
Part of that is due to location. The club's Toyota Stadium is located in Frisco, a suburb outside of Dallas. It's an hour and a half drive from Fort Worth, and between 30 and 45 minutes from downtown Dallas. There is no public transit system to get to the stadium, so when you factor in the long drives in traffic and two hours under the North Texas heat, you can see why Dallas' average attendance has never peaked over 16,816, far below their stadium's capacity of 20,000.
Obviously, setting up operations in Frisco rather than a booming neighborhood like Highland Park or Uptown came with its perks: it was cheaper, and there was more available land. Frisco is also the nation's fastest growing city, but doubts remain over whether FC Dallas can churn that influx of new homeowners into regular match-goers.
"Young people are moving to Frisco, but you've never seen these people buy tickets to games," said Goal writer Jon Arnold, who lives in the Dallas metropolitan area. "Attendance numbers are still bad."
Still, while FC Dallas have done well to establish a community in the region, some obstacles are inevitable due to the state's history. As illustrated in the TV series Friday Night Lights, high school football is religion in Texas, while basketball and baseball dwarf soccer's popularity in the state.
Forget the fact that the Houston Astros and Rockets are perennial challengers (or in the Astros' case, champions), or the fact that the San Antonio Spurs have been the most consistently dominant franchise of this century, or the fact that, even after 24 years without a Super Bowl, the Dallas Cowboys are still considered "America's team." This goes deeper than professional sport.
At the collegiate level, those three sports still reign supreme. On New Year's Day, the University of Texas Longhorns trounced the University of Georgia Bulldogs in the Sugar Bowl. In college baseball, Texas and Texas A&M are two of the best teams in the nation. This weekend, Texas Tech will face off in the NCAA basketball Final Four, with a chance to be crowned national champions. With these three main sports eating up a chunk of the available scholarship funds, many Texas universities prioritize these cash cows and turn a blind eye to funding their soccer programs. Only one Texas university is ranked inside the top 50 for NCAA Division I Men's Soccer: Southern Methodist University (SMU), which also happens to be the only Texas university which offers DI scholarships for men's soccer.
It is a testament to FC Dallas' academy success that they have convinced so many parents to allow their children to pursue a sport that even today finds itself playing catch-up to the major sports in the area. It's a top-down strategy: owners prioritize homegrown player development, managers focus on bringing through academy players into the first team, players make a name for themselves in the league, and parents bet on their kids to pursue an education on and off the field with the club, in hopes of becoming the next big thing.
Part of that stems from the club's recent selection in managers. After impressing in Colorado, Óscar Pareja returned to FC Dallas in 2014 as the first team manager. Pareja pushed through homegrown players such as Moisés Hernández and Víctor Ulloa into the first team, all the while turning around Dallas' form. A year after finishing second-to-last in the Western Conference under ex-manager Hyndman, Dallas made it to the MLS Cup Playoffs, losing to the Seattle Sounders on away goals. The following season, they finished the regular season with the best record in the conference, only to lose to eventual champions Portland Timbers in the Western Conference Finals. In 2016, they boasted the best record in the regular season, only to lose to eventual champions Seattle.
After laying the seeds as academy director, Pareja reaped the sweet rewards as manager. The club became a perennial playoff contender, all the while boasting attractive football and an academy production rate rivaled only by the New York Red Bulls in MLS. Not only that; teams outside the nation began to take notice.
This January, Bayern Munich bought FC Dallas' homegrown center back Chris Richards for $1.5 million. That may seem an inconsequential fee when juxtaposed with Bayern's $90 million signing of Lucas Hernandez last week, but for Dallas, that outlay covers a large chunk of the annual costs of running their sprawling academy. Dallas have approximately 5,000 kids, both boys and girls, in their youth set-up, with 12 affiliate clubs stretching from Costa Rica to El Paso. They subsidize their academy with youth team fees, making the academy free-to-play.
This club ethos has its benefits, as shown with Richards. The Alabama native joined Dallas' academy, and when offered a scholarship to the University of North Carolina, he rejected it in favor of signing a homegrown deal with Dallas. Thanks to a partnership agreement between the two clubs, Richards caught the eye of Bayern's academy director Jochen Sauer whilst training in Munich for 10 days, and Bayern sealed a loan agreement to bring Richards to the youth team. He made his first-team debut for Bayern before he even made his first-team debut for Dallas, and he signed a permanent deal after impressing for the club's Under-19s.
In contrast to Richards, Weston McKennie worked his way up the academy from a young age, joining at 10 years old. However, in the summer of 2016, when presented with the choice of signing a homegrown deal with Dallas or accepting a full scholarship to the University of Virginia, McKennie rejected both, instead going to Germany to play for Schalke's academy. McKennie quickly became a starter for club and country, and while Dallas resigned to letting him go for free, the fact that a 20-year-old North Texan is blossoming in the Bundesliga speaks volumes about both Dallas' academy structure and the region's production.
When Pareja left this summer for Tijuana, the club once again replaced him with an in-house solution: Luchi. Luchi had helped build the academy after Pareja's departure to Colorado, and having worked with the likes of Ferreira and Pomykal with the youth teams, he was the right man to bring them into the starting lineup.
Historically, North Texas has always managed to produce talent, but never at this pace. Kyle Rote Jr., a Dallas native, became one of the early trailblazers of the newly established North American Soccer League during the 1970s. In 2010, Conor Doyle went from playing high school soccer in Dallas to playing first-team matches for Derby County. While Doyle flamed out at a young age, Dallas' current homegrown players seem more "real deal" than "overhyped dud."
Under Luchi's direction, players like Edwin Cerrillo and Ferreira have gone from waiting in the academy to playing for the first team, and others, such as Pepi, Dante Sealy, and Brandon Servania, will get their chance to shine, too. While Real Salt Lake set a league record last month with six homegrown starters against LAFC, FC Dallas are dreaming of releasing a starting lineup composed entirely of homegrown players.
Thanks to a rich tradition of sporting success and competition, a carefully constructed academy, and a region that's teeming in talent, FC Dallas have struck it rich in North Texas' soccer pipeline, and they're going to continue to reap the rewards of one of the most innovative and fruitful production lines in America.
---
Zach is a lifelong D.C. United fan and the creator of BreakingTheLines.com. Follow him on Twitter.