MLS
D.C. United Start Season On The Right Foot With Win Over Atlanta United
D.C. United Start Season On The Right Foot With Win Over Atlanta United
D.C. United might not have gotten the best shot from Atlanta United, but the Black-and-Red did what they needed to do in a 2-0 win on Sunday.
Mar 4, 2019
by Steven Streff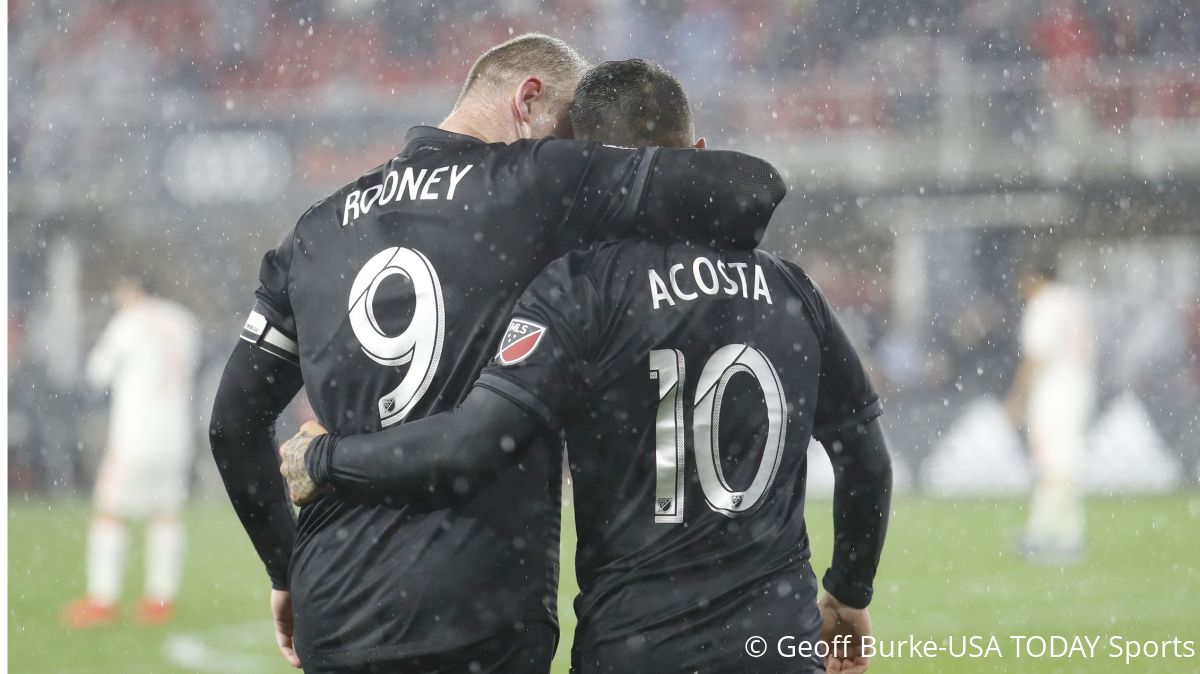 Washington D.C. — Opening up the campaign at Audi Field, D.C. United had the chance on Sunday evening against Atlanta United to do something they had not done in since 2015: win their opening game of the season. A surprisingly strong Five Stripes side could not stand in D.C.'s way on Sunday, as Paul Arriola and Luciano Acosta scored in a 2-0 win for the Black-and-Red.
In soggy conditions, D.C. took advantage of an Atlanta side that might have their eyes set on a different competition early in the season. Atlanta played on Thursday and have another Concacaf Champions League game on Wednesday in Mexico. However, manager Frank de Boer used nine of the same starters he used on Thursday, which showed early on in the game.
"You saw two different teams today. You saw a fatigued group from Atlanta at times," United head coach Ben Olsen said in his postgame press conference. "Although it was a good and mature performance from us, you have to take it with a little grain of salt with the schedule they've had."
Heralded new signing Pity Martinez wasn't one of the starters for Atlanta, but Josef Martinez — who last year set an MLS regular season record with 31 goals — did make the starting lineup. However, United did well to throttle his chances throughout most of the game, as Atlanta only managed two shots on goal in 90 minutes.
Meanwhile, the Black-and-Red created a couple of good chances of their own, and finally took the lead just before the halftime whistle. Arriola pounced on a loose ball in the box from a corner kick, part of an excellent overall display from the winger.
Acosta's long-range effort in the second half then sealed the result, even if the Black-and-Red still needed to see out 30 more minutes of the game. From range, Acosta took a shot which might not have had a great chance of beating Brad Guzan. But the shot swerved from left to right, skipping past the keeper in the rain.
"I knew it was slippery and wet out there," Acosta said through a translator after the game. "We had tested him a couple of times before, and he hadn't grabbed the ball many times, it always rebounded. I just hit it like I needed to, and luckily it went in."
Wayne Rooney should have added a third goal minutes later, but the Black-and-Red were never bothered too much in keeping the shutout. Keeper Bill Hamid made two saves, but United walked away, hoping that they gave warning to the rest of the league about what they are capable of 2019.
"It's important to try to get off to a good start," said Rooney after the game. "Atlanta was a great opportunity to not only start the season well, but it would be a marker down to the other teams watching. I think we performed well."