MLS
DC United Players Earn Spots in U.S. Men's Youth National Teams Camp
DC United Players Earn Spots in U.S. Men's Youth National Teams Camp
D.C. United prospects Bryang Kayo, Griffin Yow, and Chris Durkin earned call-ups for various age groups of the United States men's national team.
Jan 7, 2019
by Wesley Davidson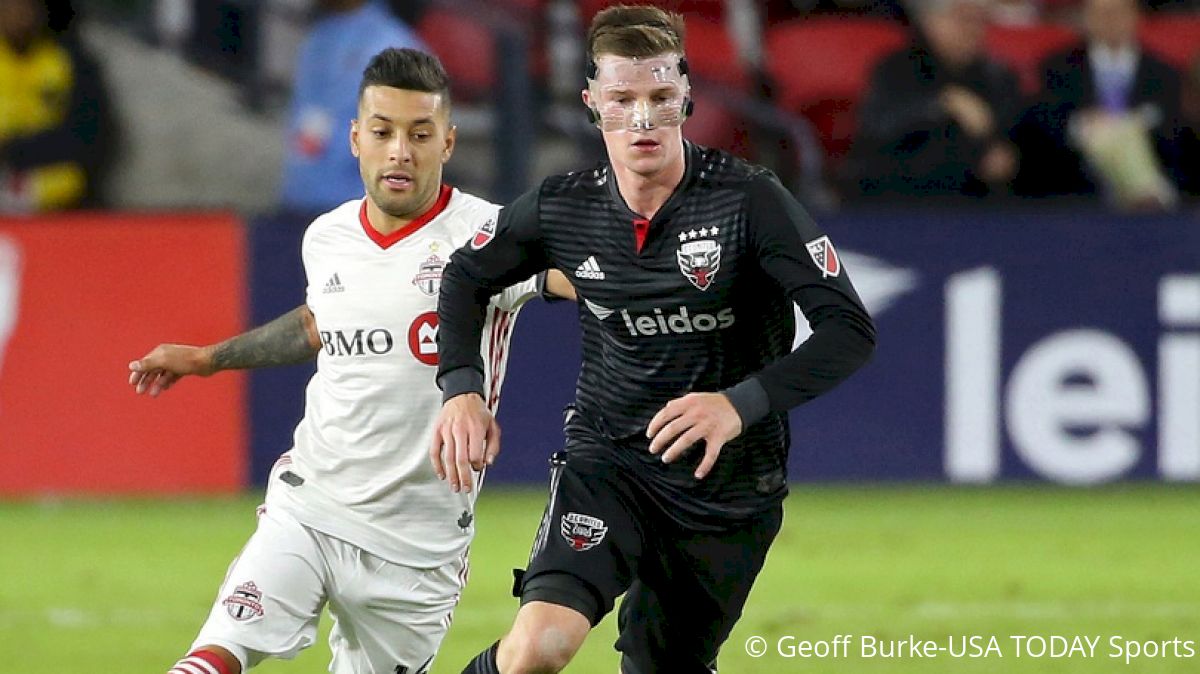 This year will be vital on all fronts for the United States men's national team. The senior squad is now under the direction of a new manager following a World Cup whiff, while the under-20 side will take their talents to Poland this summer to compete in their own FIFA World Cup. The U-17 CONCACAF champion is this spring with a berth to the World Cup on the line.
The development of young American talent is more important than ever, and three U.S. youth national teams (under-20, under-19, and under-17) are convening in the Sunshine State this month for training camp. The camp will take place at Premier Sports Campus in Lakewood Ranch with the following three matches set to be played:
Tuesday, January 8, at 4 PM ET: U-19 MNT vs U-20 MNT
Sunday, January 12, at 4 PM ET: U-20 MNT vs TBD
Sunday, January 12, at 6 PM ET: U-17 MNT vs U-19 MNT
The complete rosters for each team can be found here.
Three D.C. United players have been called to take part in the camp, including two players from the academy and rising star Chris Durkin from the senior side.
Bryang Kayo (Under-17)
Kayo is a bright young talent in midfield and was one of 153 players to attend U.S. Soccer's first Men's Youth National Team Summit last January. Born in Montgomery Village, Maryland, Kayo notched five goals in 31 appearances in the 2017-18 season and this year has found the back of the net on five occasions in just 12 games played.
Griffin Yow (Under-17)
Also born in 2002, the second D.C. United academy player included in the January camp is forward Griffin Yow. Yow hails from Clifton, Virginia, and has produced a commendable goal-scoring record in his two years in the academy-14 goals in 30 appearances last season and seven goals in nine appearances so far this campaign. Yow traveled to England with the U-17 side in October where they competed in the 2018 International Youth Tournament.
Chris Durkin (Under-20)
There has been plenty of buzz surrounding the first team's youngest player. Durkin first joined the D.C. academy as a 12-year-old and signed with the first-team at 16. The Virginia native featured at both the 2017 CONCACAF U-17 Championship and the 2017 FIFA U-17 World Cup. Durkin is able to drop and play on the back line in addition to his defensive midfield role, and U-20 coach Tab Ramos has elected to include him in his list of defenders for this camp.
Last season was a banner year for Durkin, in which he earned 16 starts and 23 total appearances in league play. The 18-year-old found himself getting more minutes than expected early in the season due to injuries in midfield. Stout performances in MLS and for the national team garnered interest from abroad in 2018, specifically German outfit Hannover and Benfica in Portugal's Primeira Liga.
With a new manager at the helm for the United States national team, there is no better time for Chris Durkin to progress and make a statement of intent to be in Gregg Berhalter's plans moving forward.
---
Wesley is a graduate of the University of Alabama (BA) and the University of Illinois-Urbana Champaign (MA). He currently works in youth soccer in Austin, Texas, and can be found on Twitter.