D.C. United became significant contenders in MLS this past year, breaking out after their initial 2-7-5 slump to go 12-4-4 in their last 20 games and claim the fourth position in the Eastern Conference, ultimately losing to Columbus Crew in a game decided by kicks from the mark.
The division of the season into these two parts of 14 and 20 matches is noteworthy due to the simultaneous advent of two major phenomena: Audi Field and Wayne Rooney.
United opened Audi Field on July 14, sitting in last place in the Eastern Conference after playing 12 out of their first 14 matches away. Although their schedule was designed to get as many home matches as reasonably possible in Audi Field, the team needed a spark if there was any hope of making it to the playoffs.
Enter Wayne Rooney.
After leaving Manchester United for his hometown club Everton, Rooney finally departed the top flight in England for the MLS on a free transfer. Ten goals and six assists later, no one can say his presence hasn't been deeply felt in the U.S. capital city.
What is up for debate whether the team's remarkable late-season run was due mostly to the arrival of the former England captain or to being the hosts — rather than the visitors — for three-quarters of their remaining matches after the opening of the new stadium. Or a combination of both, of course. While we cannot ultimately settle the debate, we can perhaps shed some light by adjusting the team's pre- and with-Rooney performances to account for how respectively little or often they played at home.
For this analysis, we will use expected goals (xG), since it is the statistic most predictive of future team performance. Totaling up the xG for and against D.C. United for all their home and away games in each part of the season, we can adjust those numbers to reflect the effect home-field advantage has on the expected goals of a team.
Since 2011, the average home xG during the MLS regular season is 1.165 times more than the average xG (making away xG only 0.835 times the average). If we divide the Black and Red's home game xG by 1.165 and divide their away games' by 0.835, we can fairly compare D.C.'s performance before Rooney to their unusually home-heavy schedule after he arrived, assuming D.C.'s difference between home and away performance is typical for an MLS team.
Let's run the numbers!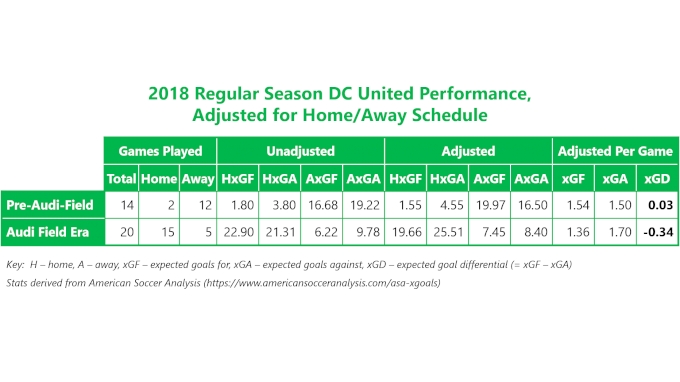 The results are pretty strange! Why is there a negative number after Rooney joined the team?
Before Rooney, this analysis suggests, D.C. played basically as well as their opponents, but with the vast majority of matches played away, they ended up with as dismal of a record as one would expect.
After Rooney's arrival, the Black and Red appeared to play worse than their opponents, yet the sheer number of home games pushed the odds in their favor, allowing them to win a healthy number over the home stretch which may have broken the other way in away games. Sounds like Audi Field was a success in that regard.
If we were to apply the same methodology to every team, using the same season split of July 14, we can see D.C. United's performance took the fourth-worst hit of all teams from the first part of the season to the Audi Field era.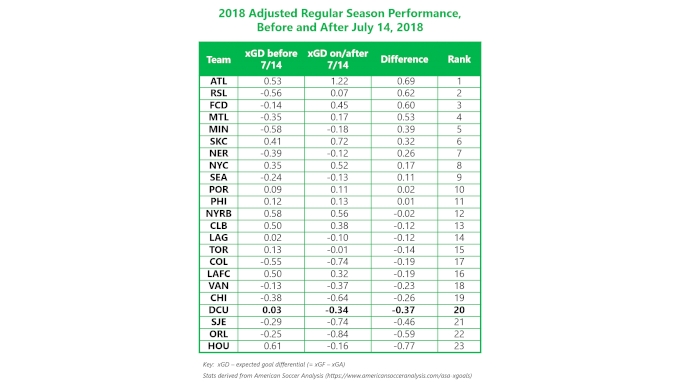 There certainly isn't enough data available to draw any firm conclusions from this analysis, and the model does not even attempt to incorporate all available variables, but the numbers are thought-provoking. For one, playing such an imbalanced schedule isn't something we normally see. For another, adding a player who logged such significant minutes as Rooney in the middle of the season can certainly create an adjustment period for a team: Rooney played 1,750 out of the team's 1,899 minutes in that 20-match spell, after all.
And of course, nobody could forget this moment in which Rooney basically single-handedly helped D.C. to the postseason:
One of my favourite @dcunited moments from 2018. Can't wait to get back training soon ready for the new @MLS season 🙌🔴⚫️ #FlashbackFriday #MLS pic.twitter.com/N0JdyGxHms

— Wayne Rooney (@WayneRooney) January 4, 2019
Admittedly, the methodology presented here is yet untested in a long-term setting, and more analysis is needed to determine exactly how well it works when game splits are as skewed toward either home or away as these are for D.C.
But D.C. United certainly needs to continue to step up their game to keep the Cinderella run going. More time with Rooney cohering with the rest of the roster will help, and United has been busy exploring ways of keeping their core intact while adding flexibility and depth on the market.
No doubt Rooney has proven himself to be one of the better forwards in MLS, but the long and short of D.C. United's miraculous streak is that playing at home matters significantly to a team's performance, probably more than an individual player. With Rooney integrated even more, younger players with more experience, and an important new signing, D.C. could be making even more noise at Audi Field this year.
Unless otherwise noted, all stats are derived from American Soccer Analysis's interactive tables.
---
Ryan Anderson is a data-driven insights evangelist currently working as a data analyst in Des Moines, IA. He moonlights as a certified soccer referee and provides player projections and advice for the MLS Fantasy community via his Twitter account.