There's nowhere quite like it.
It was late September, yet the sun was still blazing and the sky was a brilliant blue in Florence, Italy. With the green Tuscan hills in the background, the setting was as idyllic as could be imagined for a Sunday afternoon game of football, but this was no place for the wealthy tourists that flock to the city by the millions every year.
A walk from the long, straight Viale dei Mille that leads to Fiorentina's Stadio Artemio Franchi revealed a sea of purple outside Moonshine Bar, one of the only places that resembles an English pub near the stadium itself. Supporters regularly gather there to drink together before home matches, the owner Massimo having commenced his task of making hundreds of panini filled with delicacies taking inspiration from his Calabrian roots at 9 AM that day.
From the outside, Moonshine may not look like much, but Massimo takes pride in what he offers to his matchday customers, his food just another manifestation of the bel paese, despite being at odds with the gruff atmosphere of football. This becomes clear when a man with a tattoo of the Ponte Vecchio depicted on his leg walks over, meeting up with others to place stickers with the name of their supporters group on the window of the bar that you can no longer see out of.
There are no airs and graces about these people. They are real, and united by passion for one of the world's most historic cities in which they were born, and the team that represents them. For a long time these supporters have faithfully followed this side simply because it is part of them, the stadium the only place in Florence where local people can display their pride undisturbed by visitors from abroad.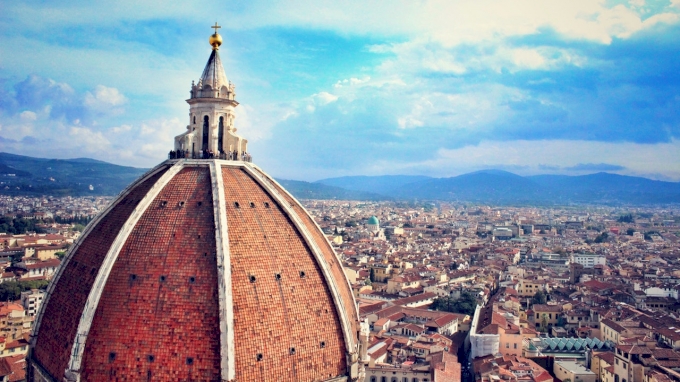 There is no city quite like Florence.
In recent years they have not had much to reward them for their loyalty, the Viola last having lifted a trophy back in 2001 with a victory in the Coppa Italia. Sporting director Pantaleo Corvino is currently into the second year of a cost-reducing exercise – spearheaded by notoriously prudent and unpopular owners Andrea and Diego Della Valle – in which he has significantly reduced the wage bill by putting together what is, on average, the youngest squad in any of Europe's top five leagues.
This should mean that a normally pessimistic fanbase remains subdued, but there was a genuine air of optimism before the home match with Atalanta. Where doubts would be expected, instead there is enthusiasm — 22,000 season tickets sold this summer, the largest figure since a high-spending transfer window saw striker Mario Gomez arrive in 2013.
Why now?
The key to this answer lies with coach Stefano Pioli, the former Viola defender appointed by Corvino at the beginning of the 2017/18 campaign. The boss' personable yet tough nature along with careful man-management skills has seen his impeccable conduct draw the very best from his young players. Not only that, but his sensitive and selfless handling of the tragic death of captain Davide Astori last season gives you the feeling his team would run through brick walls for him.
Such dedication has empowered the fans, who are collectively the club's very best asset. A procession of over 700 scooters accompanied the team bus from a nearby hotel to the stadium in solidarity before the match with Udinese on September 3, and they went into the fixture with Atalanta at the end of that month with three wins from three on home soil.
Walking out from under the Curva Fiesole into a packed-out stand that day, it was easy to see exactly why a team still under development had achieved such a positive record at the Franchi, their supporters standing shoulder to shoulder with the team just as they had done with their scooter parade. Only those who were present could fully understand how this wall of noise and positivity became a living, breathing force, willing the team on to victory with the energy it created.
Then there was Davide.
His name and face were everywhere: on the backs of shirts and on many of the huge flags on display in the Curva that day, but it was more than just that. As has become customary, the crowd chanted their late captain's name for an entire 60 seconds during the 13th minute of the match. The collective will of such a large, united, and passionate gathering allowed those who witnessed it to feel his presence, their energy in remembrance somehow creating a life force of its own.
Fiorentina supporters uniting in memory of their captain.
Fiorentina went on to win 2-0 that day, their fans going home with just as much optimism as when they arrived. No team in Serie A will fancy their chances of a result here if the Ultras in the Curva Fiesole continue to support the side with such fervor, and the more this factor has palpable effects, the more it will endure. There's nowhere quite like it.
---
Chloe Beresford specializes in Serie A for a number of outlets and can be found on Twitter and on Facebook via her page CalcioByChloe.