South Atlantic Conference Men's Soccer
SAC Men's Weekly Awards - Nov. 7, 2023
SAC Men's Weekly Awards - Nov. 7, 2023
The South Atlantic Conference announced its Men's Soccer Players of the Week for games played in during the tenth week of the 2023 season.
Nov 7, 2023
by Nicole Beckelman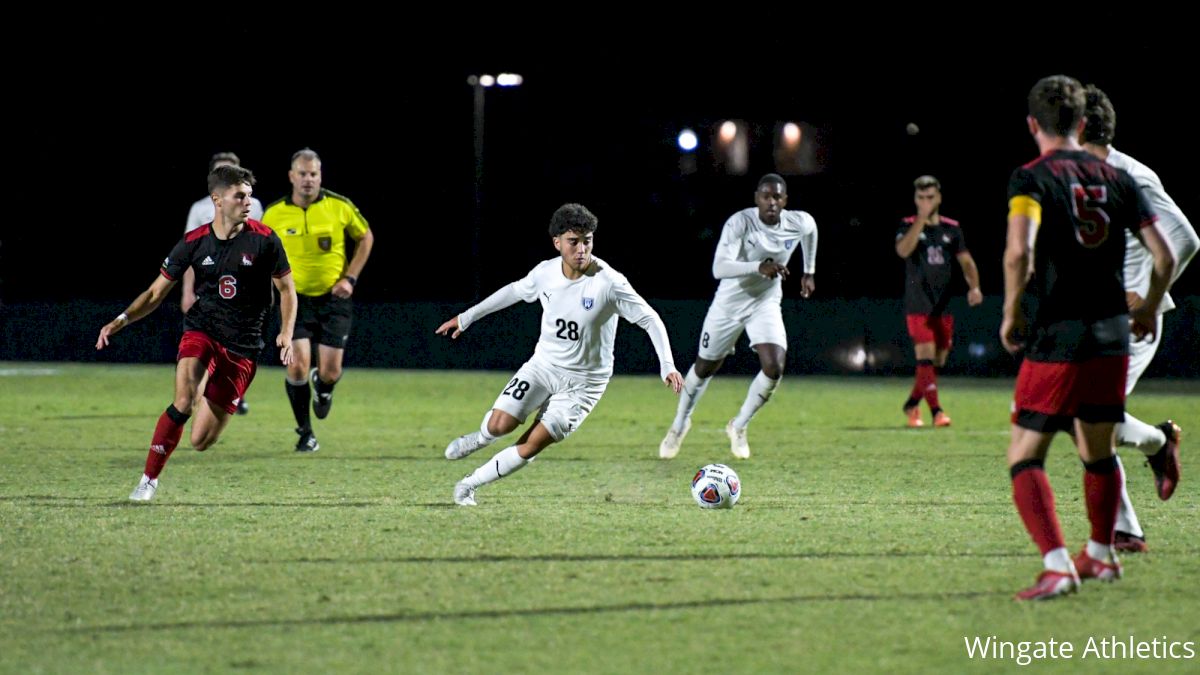 Wingate's Khalil Khenayzir was named the Offensive Player of the Week while Lenoir-Rhyne's Juan Basabe was named the Defensive Player of the Week.
Khenayzir, a sophomore from Houston, Texas, scored the game-winning goal in the 84th minute to give No. 10 Wingate the 1-0 win over Coker to wrap up the outright regular-season SAC title. The Bulldogs, riding an eight-match unbeaten streak, enter the SAC Tournament as the number-one seed.
Basabe, a graduate student from Durango, Spain, had a season-best eight saves, topping his previous season-high 6 saves against Lincoln Memorial back on October 28th. Basabe also produced a third-straight clean sheet versus Catawba on Nov. 1st, marking the first time since the 2006 season that the Bears have notched three straight shutouts against conference foes.
2023 SAC Men's Soccer Players of the Week
Offensive
Sept. 7 – Peter Plougmand, Mars Hill
Sept. 12 – Pablo Pozos, Wingate
Sept. 19 – Daniel Burko, Lincoln Memorial
Sept. 26 – Jacques Fokam Sandeu, Coker
Oct. 3 – Pablo Pozos, Wingate
Oct. 10 – Kriton Kiousis, Lincoln Memorial
Oct. 17 – Mark Radoki, Limestone
Oct. 24 – Peter Plougman, Mars Hill
Oct. 31 – Adrian Martina, Lenoir-Rhyne
Nov. 7 – Khalil Khenayzir, Wingate
Defensive
Sept. 7 – Nicolas Leite, Tusculum
Sept. 12 – Juan Basabe, Lenoir-Rhyne
Sept. 19 – Nicolas Leite, Tusculum
Sept. 26 – Zak Stiffler, Catawba
Oct. 3 – Pedro Santos, Wingate
Oct. 10 – Dániel Benedek Miklósi, Lincoln Memorial
Oct. 17 – Henrik Dahl, Limestone
Oct. 24 - Dániel Benedek Miklósi, Lincoln Memorial
Oct. 31 – Juan Basabe, Lenoir-Rhyne
Nov. 7 – Juan Basabe, Lenoir-Rhyne