CAA Women's Soccer
CAA Women's Soccer Weekly Awards - Oct. 23
CAA Women's Soccer Weekly Awards - Oct. 23
Nia Christopher, Delaney Lappin, Riley Melendez, and Gabby Hoschek are the CAA women's soccer weekly award winners for the week ending October 22.
Oct 25, 2023
by Nicole Beckelman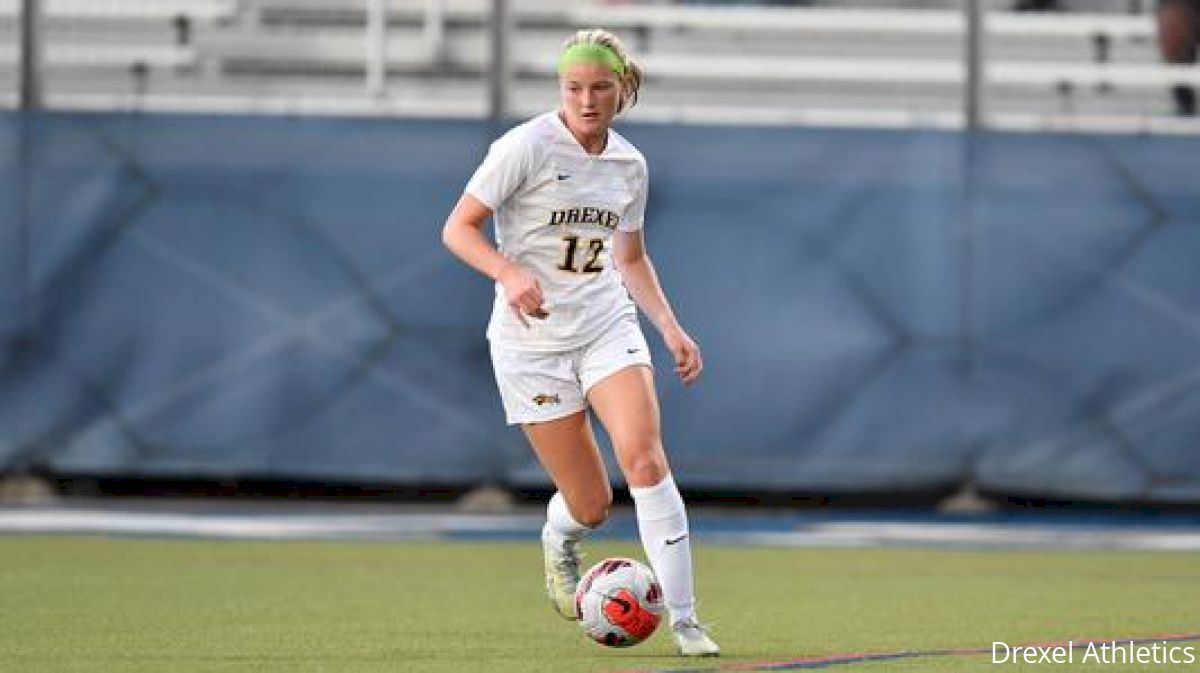 CO-OFFENSIVE PLAYER OF THE WEEK
Nia Christopher, Towson
Senior | Forward | Devonshire, Bermuda / John Carroll School (Md.)
Christopher notched a goal and an assist in each of Towson's two games as the Tigers captured their first CAA regular season title. The senior from Bermuda factored into two of the three goals in Towson's 3-0 victory over William & Mary and both scores in the Tigers' 2-0 win over Hofstra.
CO-OFFENSIVE PLAYER OF THE WEEK
Delaney Lappin, Drexel
Senior | Forward | Corbin City, N.J. / Ocean City
Lappin collected a goal and five assists in Drexel's 2-0-0 week to close its 2023 season. The senior from New Jersey assisted on a goal in Thursday's win over UNCW and set the Dragons' single-game assist record with four in Sunday's win over Hampton. Lappin broke the Drexel career points record in the performance against Hampton.
DEFENSIVE PLAYER OF THE WEEK
Riley Melendez, Towson
Senior | Goalkeeper | Springfield, Va. / Lee
Melendez contributed to a combined and a solo shutout in Towson's 2-0-0 week to grab the top seed in the CAA Championship. The senior from Virginia made two stops in 78 minutes in goal Thursday and turned aside seven shots in Sunday's clean sheet against Hofstra.
ROOKIE OF THE WEEK
Gabby Hoschek, Elon
Freshman | Midfield | Raleigh, N.C. / Crossroads Flex
Hoschek begins and ends the year as CAA Rookie of the Week after contributing to both Elon results last week. The freshman from North Carolina assisted on the game-tying goal with three seconds remaining in Thursday's draw at Campbell and scored in the Phoenix's win over Charleston on Sunday.
2023 CAA WOMEN'S SOCCER WEEKLY AWARD WINNERS
OFFENSIVE PLAYER OF THE WEEK
Aug. 21: Olivia Pearse, Hofstra
Aug. 28: Annalena O'Reilly, Drexel
Sept. 4: Jasmine Hamid, Towson
Sept. 11: Vivian Akyirem, Northeastern
Sept. 18: Nia Christopher, Towson
Sept. 25: Maggie Cochran, Northeastern; Jasmine Hamid, Towson
Oct. 2: Nia Christopher, Towson
Oct. 9: Jessie Hunt, Northeastern
Oct. 16: Aimee Hodgson, Hofstra
Oct. 23: Nia Christopher, Towson; Delaney Lappin, Drexel
DEFENSIVE PLAYER OF THE WEEK
Aug. 21: Nora Green-Orset, William & Mary
Aug. 28: Lily Dunbar, Drexel; Riley Melendez, Towson
Sept. 4: Joella Chase, Drexel
Sept. 11: Kerry Pearson, Stony Brook
Sept. 18: Cassie Coster, Monmouth
Sept. 25: Shae Yocum, Charleston
Oct. 2: Cassie Coster, Monmouth
Oct. 9: Kyla Burns, Delaware; Holland Stam, Northeastern
Oct. 16: Holland Stam, Northeastern
Oct. 23: Riley Melendez, Towson
ROOKIE OF THE WEEK
Aug. 21: Gabby Hoschek, Elon
Aug. 28: Alyssa Tucker, Campbell
Sept. 4: Lindsay Wilson, William & Mary
Sept. 11: Bella Antonio, Charleston
Sept. 18: Loren Gehret, Monmouth
Sept. 25: Liza Suydam, Monmouth
Oct. 2: Grace Gelhaus, Elon
Oct. 9: Alyssa Tucker, Campbell
Oct. 16: Ashley Bell, Stony Brook
Oct. 23: Gabby Hoschek, Elon