CAA Men's Soccer
CAA Men's Soccer Weekly Awards - Oct. 23
CAA Men's Soccer Weekly Awards - Oct. 23
Tobias Wangerud, Olle Brorsson and Sean Smith are the CAA men's soccer weekly award winners for the week ending October 22.
Oct 25, 2023
by Nicole Beckelman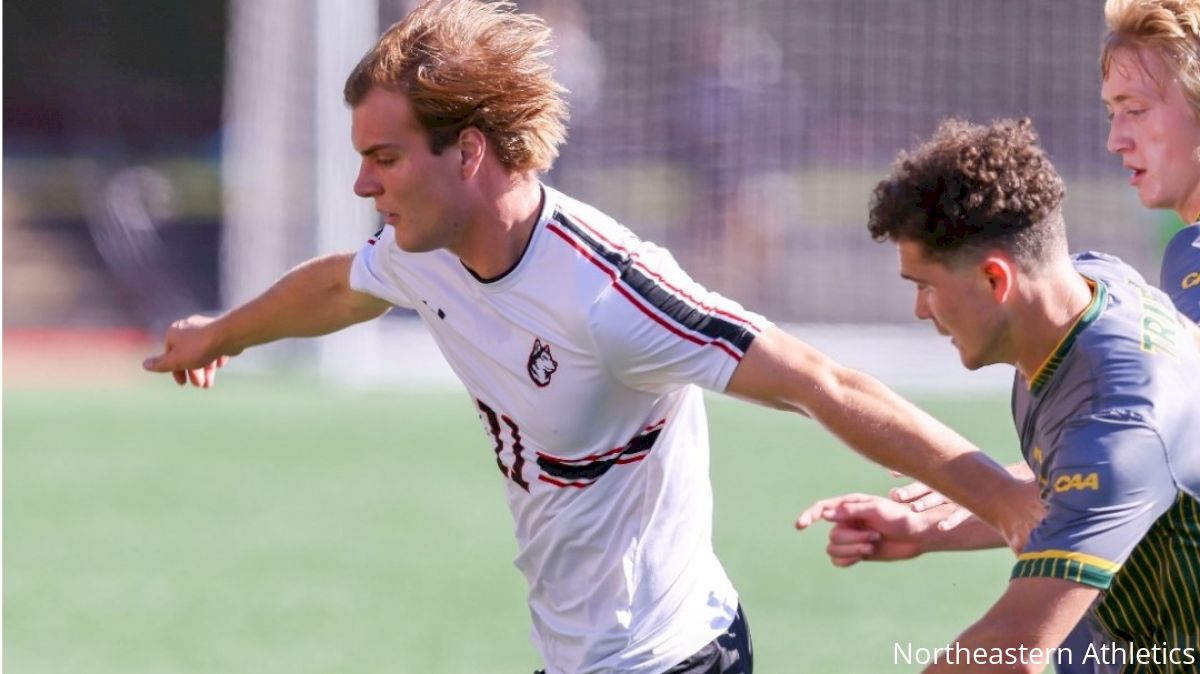 OFFENSIVE PLAYER OF THE WEEK
Tobias Wangerud, Northeastern
Junior | Forward | Oslo, Norway / Dahlske Videregaaende
Wangerud's brace led the way in Northeastern's 4-4 draw against Rutgers on Saturday. The junior from Norway tied the game twice, first leveling the contest with 10 seconds remaining in the first half and again in the second half.
DEFENSIVE PLAYER OF THE WEEK
Olle Brorsson, Monmouth
Junior | Defense | Örebro, Sweden / Idrottsgymnasiet Orebro
Brorsson scored twice and played all 90 minutes defensively to pull Monmouth into a three-way tie for first. The junior from Sweden headed home a pair of goals off set pieces to earn the Hawks a 2-0 road win in the rain at Stony Brook to bring Monmouth into a tie atop the table with the Seawolves and Hofstra.
ROOKIE OF THE WEEK
Sean Smith, Delaware
Freshman | Defense | Robbinsville, N.J. / Robbinsville
Smith played all 90 minutes on the backline as Delaware secured a scoreless draw against UNCW to stay in control of its CAA Championship chances. The freshman from New Jersey helped keep the Seahawks in check and the Blue Hens in fifth place entering the regular season's final Saturday.
2023 CAA MEN'S SOCCER WEEKLY AWARD WINNERS
OFFENSIVE PLAYER OF THE WEEK
Aug. 28: Sam Donnellan, Delaware
Sept. 4: Amit Magoz, Stony Brook; Ben Zakowski, Monmouth
Sept. 11: Carlos Fernandez, Delaware
Sept. 18: Eliot Goldthorp, Hofstra
Sept. 25: Ryan Carmichael, Hofstra
Oct. 2: Eliot Goldthorp, Hofstra
Oct. 9: Victor Stromsten, Elon
Oct. 16: Richard Monath, Delaware
Oct. 23: Tobias Wangerud, Northeastern
DEFENSIVE PLAYER OF THE WEEK
Aug. 28: Wessel Speel, Hofstra
Sept. 4: Ethan Garvey, Charleston
Sept. 11: Jacob Randolph, UNCW
Sept. 18: Eryk Dymora, Monmouth
Sept. 25: Wessel Speel, Hofstra
Oct. 2: Wessel Speel, Hofstra
Oct. 9: Edmond Kaiser, Stony Brook
Oct. 16: Youri Senden, Drexel
Oct. 23: Olle Brorsson, Monmouth
ROOKIE OF THE WEEK
Aug. 28: Bryan Miralrio, UNCW
Sept. 4: Julian Jordheim, Drexel
Sept. 11: Thomas Vold, Northeastern
Sept. 18: Arturo McConnochie, Monmouth
Sept. 25: Arturo McConnochie, Monmouth
Oct. 2: TJ Hastings, Delaware
Oct. 9: TJ Hastings, Delaware
Oct. 16: Peter Thomas, Charleston
Oct. 23: Sean Smith, Delaware