2023 Scranton vs Drew - Women's
NCAA Women's Soccer Games To Watch This Week Oct. 16-Oct. 22
NCAA Women's Soccer Games To Watch This Week Oct. 16-Oct. 22
Here's a look ahead at the games to watch for the week ahead in the BIG EAST, CAA, GLIAC, SAC and Landmark Conference.
Oct 16, 2023
by Briar Napier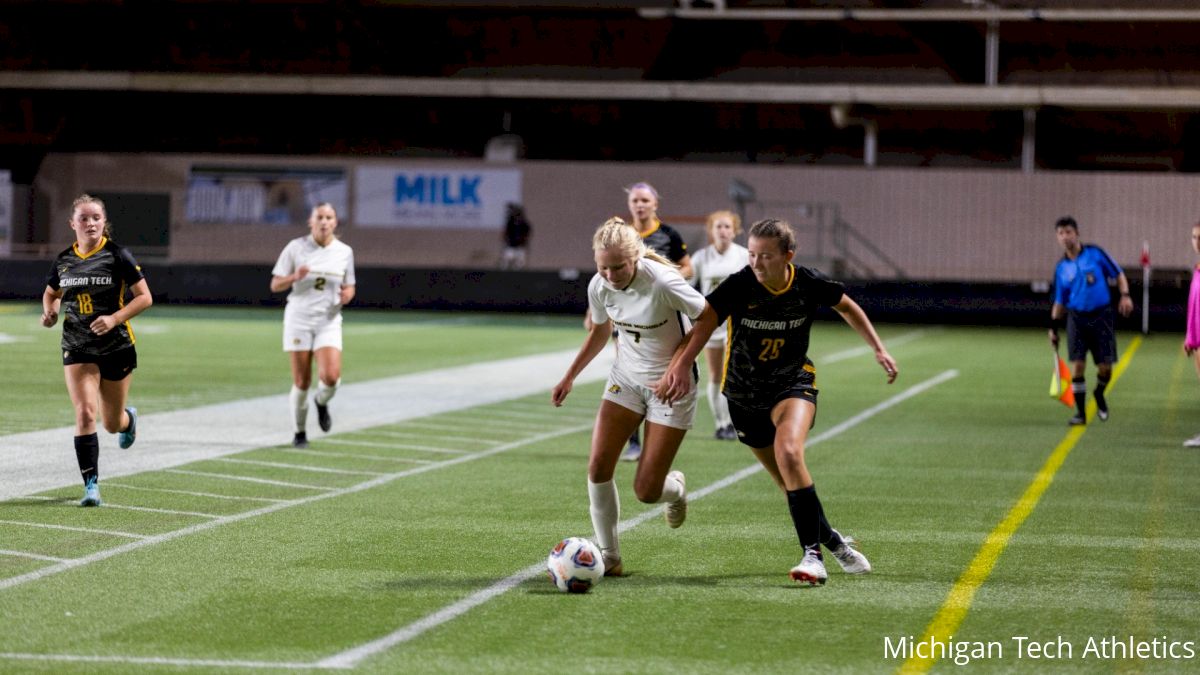 FloFC is broadcasting college soccer matches from NCAA Divisions I, II and III all season long, with each week bringing a new, exciting slate of matchups to check out from its partner conferences.
Here's a look ahead at the games to watch for the week ahead in the BIG EAST, CAA, GLIAC, SAC and Landmark Conference:
BIG EAST: Seton Hall Vs. Butler
With just three regular season games remaining, it's put-up or shut-up time for several teams in the BIG EAST. The Pirates and Bulldogs, both of whom are trying to be among the league's top six to earn a berth to the BIG EAST Women's Soccer Championship, each need as many points as possible in this matchup to help them feel a little more cozy as they currently stand in sixth and eighth place, respectively.
CAA: UNCW Vs. Delaware
Meanwhile, in the CAA, just two regular season games remain for the league's teams as the final week of preparation before its conference tournament is underway. UNCW, one point behind sixth-placed Stony Brook as of this writing, needs positive results this week to get past the Seawolves in the table (and therefore qualify for the CAA Women's Soccer Championship), who have a game in hand and will not play on Saturday's final day of the regular season.
GLIAC: Michigan Tech Vs. Parkside
It's hard to ignore any soccer iteration of the Anchor-Bone Classic — Ferris State-Grand Valley State is at 1 p.m. Sunday, if you're so inclined — but Tech, with a 4-1-4 mark in GLIAC play, can quietly sneak up to at or near the top of the table if it takes care of business in a winnable pair of matches against Parkside and Purdue Northwest (at noon Sunday) over the next week. Huskies goalkeeper Gracie VanLangevelde (.836 save percentage) has been one of the league's best in net this year.
SAC: Anderson Vs. Catawba
The magical run continues for Catawba, which is now 12-0 and ranked No. 2 in the United Soccer Coaches Division II Top 25 poll, the highest ranking in program history. The most prolific attacking team in D-II (50 goals as of Monday afternoon), however, has conceded in three straight games—and Anderson, itself, possessing a strong attack (26 goals this season), is unbeaten in five straight matches and hitting its stride. A Trojans upset is not completely out of the question.
Landmark: Scranton Vs. Drew
Drew, at five points back in the conference standings of table-topping Scranton, is the league's best hope to unseat the Royals and deny them yet another top seed in the upcoming Landmark Conference Women's Soccer Championship. The Rangers, with three regular season games remaining, can break the title chase wide open with a win Tuesday, but good luck stopping Scranton as it's 6-0 in Landmark play to date and hasn't lost at all in over a month.