2023 Bryant vs Northeastern - Men's
NCAA Men's Soccer Games To Watch This Week Oct. 9-Oct. 15
NCAA Men's Soccer Games To Watch This Week Oct. 9-Oct. 15
Here's a look ahead at the games to watch for this week in the BIG EAST, CAA, GLIAC, SAC and Landmark Conference.
Oct 10, 2023
by Briar Napier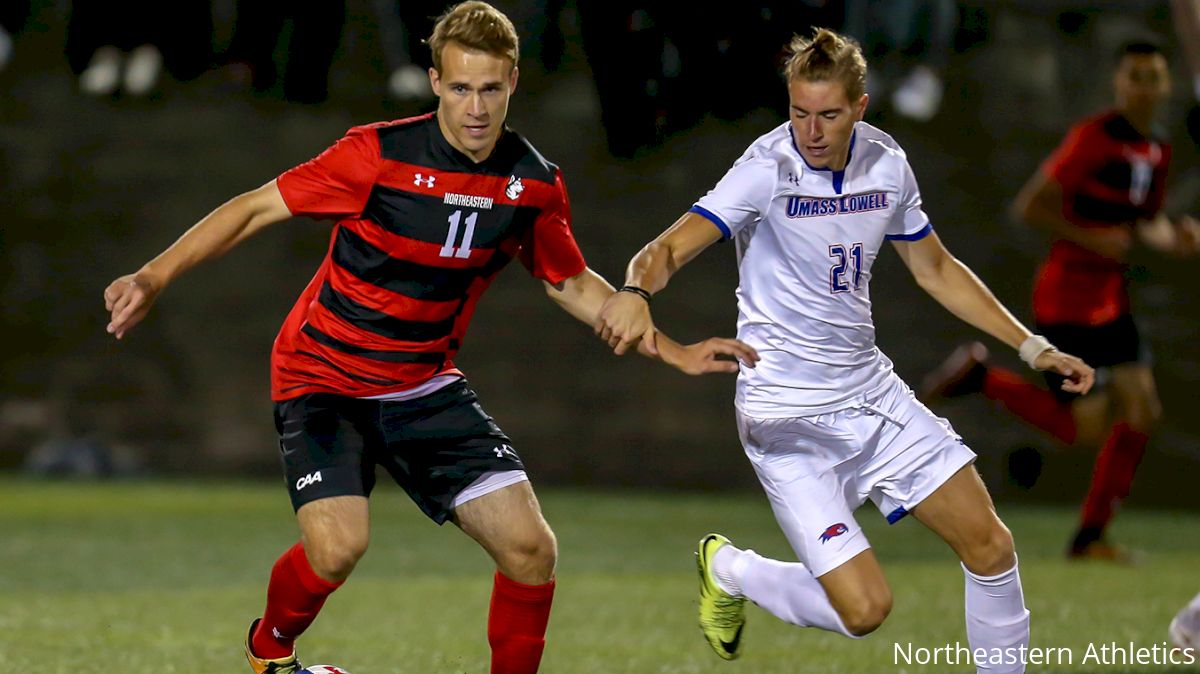 FloFC is broadcasting college soccer matches from NCAA Divisions I, II and III all season long, with each week bringing a new, exciting slate of matchups to check out from its partner conferences.
Here's a look ahead at the games to watch for the week ahead in the BIG EAST, CAA, GLIAC, SAC and Landmark Conference:
BIG EAST: Akron Vs. Xavier
Just a single unbeaten team remains in the BIG EAST, and it gets one of its toughest in-conference tests yet in a match for supremacy in the Midwest Division. No. 5-ranked Akron (per the most recent United Soccer Coaches top-25 poll) is yet to be conquered with an 8-0-4 record on the year as of this writing, but the Zips are still behind the Musketeers on points in the league table. That can change in a titanic clash in Cincinnati this weekend.
CAA: Bryant Vs. Northeastern
The fifth-placed Huskies need wins to stay on the right side of the CAA Men's Soccer Championship bubble as only the top six teams qualify for next month's conference tournament. Though Northeastern's date against Bryant is a nonconference matchup, the Bulldogs, holding an impressive 9-1-2 record while receiving votes in the United Soccer Coaches poll, are a quality opponent that could give Northeastern a surge of momentum if it finds a result against them.
GLIAC: Purdue Northwest Vs. Parkside
With just a handful of regular season games for each school remaining, the league-leading Rangers and second-placed Pride know just how much will be on the line in their second matchup of the year following a 1-1 draw between them on Sept. 17. Northwest gained ground on Parkside when the latter lost to St. Cloud State this past weekend, and a Pride win in Kenosha would see them hold an equal GLIAC record to the Rangers with just two league matches left for each team.\
SAC: Catawba Vs. Limestone
A shaky week for No. 4 Limestone occurred when it lost to Wingate and drew Tusculum in SAC play, seeing it surpassed by the Bulldogs at the top of the league standings. The Saints have high aspirations and must get the gears going again, but Catawba — who has beaten both Wingate and Tusculum on the year — is trying to ensure that Limestone's slippage down the pecking order in the SAC continues.
Landmark: Lycoming Vs. Catholic
The only two programs in the Landmark entering this week on multi-game winning streaks, the Warriors and the Cardinals are also Nos. 1 and 2 in the league, making their meeting in Washington D.C. this weekend that much more crucial to the conference's title fight. Lycoming's been particularly stingy in its 4-0 start to Landmark play, only allowing one goal combined across those wins.