BIG EAST Men's Soccer
BIG EAST Men's Weekly Awards - Oct. 2, 2023
BIG EAST Men's Weekly Awards - Oct. 2, 2023
The sixth week of the BIG EAST men's season has concluded, revealing the players who earned Player of the Week awards.
Oct 5, 2023
by Nicole Beckelman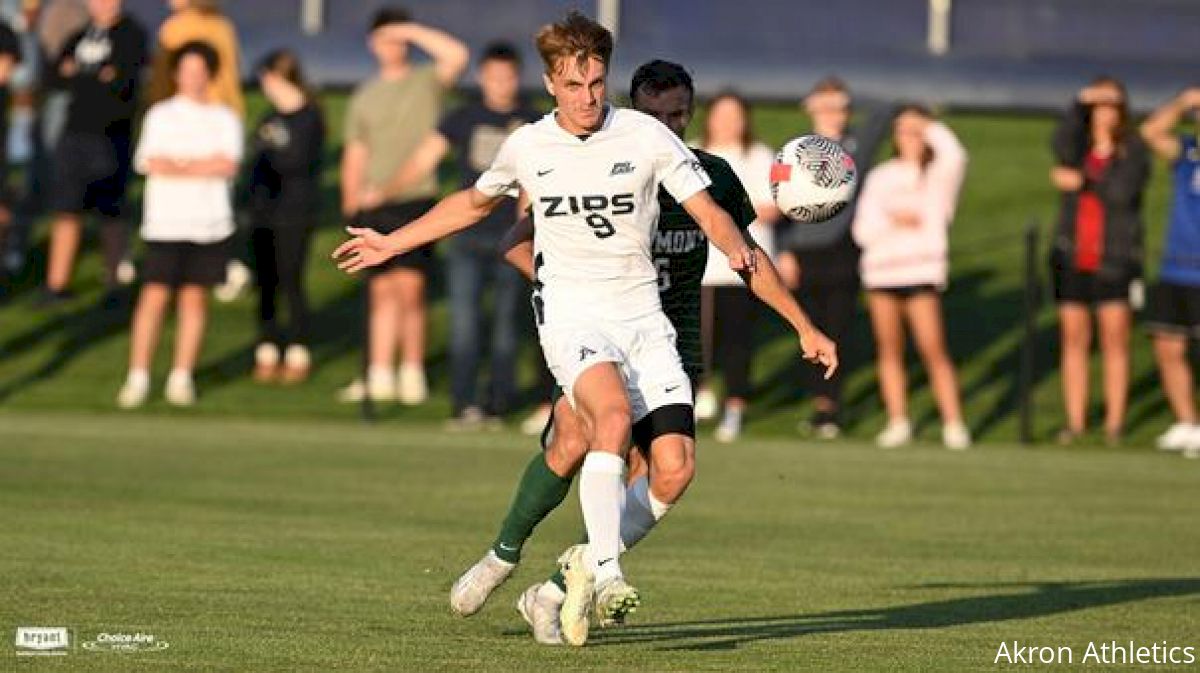 BIG EAST Offensive Player of the Week
Jason Shokalook, Akron, Jr., F (Erie, Pa.)
Shokalook turned in another stellar performance with a two-goal effort in a 3-1 win over Seton Hall on Friday. It represented Shokalook's second brace of the season and fourth of his career. He netted his fifth goal of the year on a back-heel kick in front of the net in the 32nd minute to give the Zips a 1-0 lead. He then capped the scoring with a half bicycle kick tally in the 85th minute inside the six for his sixth goal of the season. He finished the contest with a game-high five shots, including four on goal. On the season, Shokalook leads Akron in goals (6), assists (4), points (16), shots (34) and shots on goal (18).
BIG EAST Defensive Player of the Week
Thomas Lamaille, St. John's, Sr., D (Villejuif, France)
Lamaille guided the Johnnies to a 1-0 victory in his 90-minute effort against Marquette. With the team being down two men for the final 34 minutes of the game, Lamaille was instrumental on the back line after being forced to shift to center back. The senior defender staved off 19 shots from Marquette, 17 of which came in the second half with 13 in the final 30 minutes. Lamaille also assisted in the denial of 17 corner kicks from the Golden Eagles.
BIG EAST Goalkeeper of the Week
Jayden Hibbert, UConn, So., GK (Teaneck, N.J.)
Hibbert came up big for UConn in its win over Villanova on Friday, earning his third shutout of the season. Facing 14 shots by the Wildcats' offensive attack, the sophomore goalkeeper tied a season high with five saves in the match. Hibbert corralled four opening half saves to keep Villanova off the board, while UConn's freshman forward Kieran Chandler scored in the final minute of the first frame to give the Huskies a lead they would not relinquish.
BIG EAST Freshman of the Week
Nathan Trickett, Xavier, Fr., M (Independence, Ohio)
Trickett delivered the game-winning goal for the Musketeers in Xavier's 1-0 win over Creighton on Friday. The win moved Xavier to 2-1-0 in BIG EAST play and a tiebreaker advantage over Creighton in the Midwest division. Making his first career start, Trickett logged a season-high 48 minutes and posted a match-high three shots (three shots on goal) to lead the Musketeers.