CAA Men's Soccer
CAA Men's Soccer Report | Sept. 12, 2023
CAA Men's Soccer Report | Sept. 12, 2023
Catch up on the CAA men's soccer weekly news, notes and awards.
Sep 13, 2023
by FloFC Staff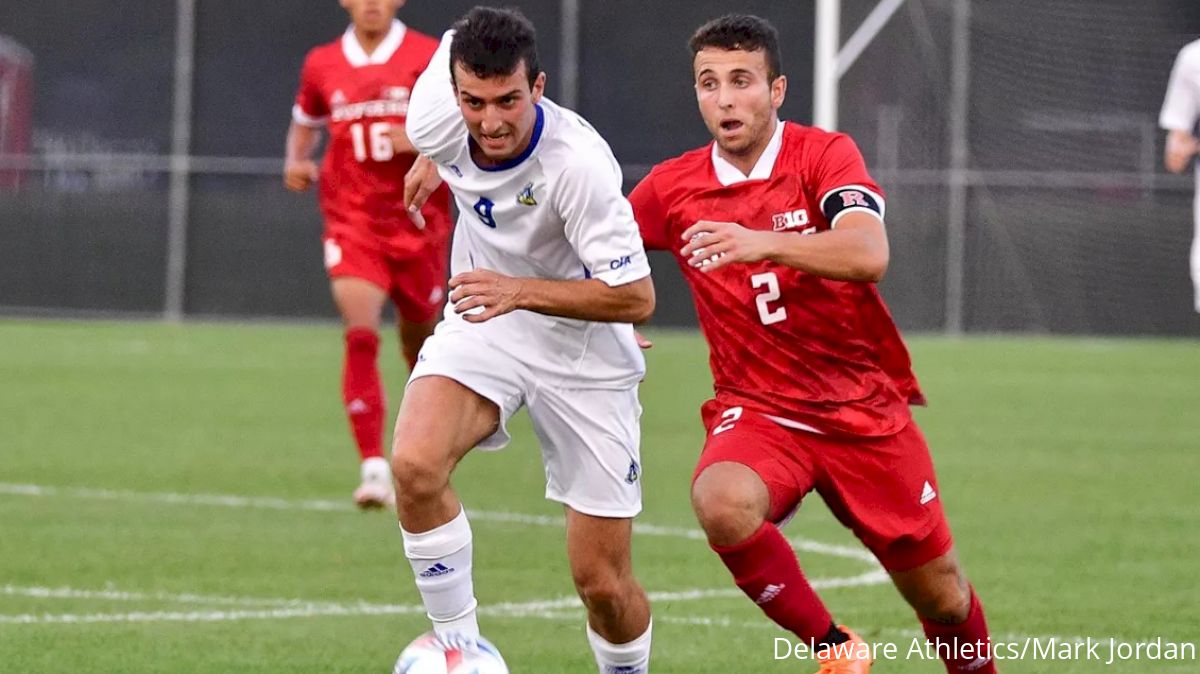 Catch up on the CAA men's soccer weekly news, notes and awards.
SCHEDULE AND RESULTS
Tuesday, Sept. 5
Northeastern 2, Quinnipiac 1
George Washington 3, Stony Brook 1
Campbell 1, UNCG 1
UNCW 2, South Carolina 0
Charleston 2, Coastal Carolina 0
Delaware 3, Mount St. Mary's 2
William & Mary 1, Longwood 1
Saturday, Sept. 9
Monmouth 1, Elon 1 *
Drexel 3, Campbell 2 *
UNCW 1, ETSU 0
Stony Brook 1, Hofstra 1 *
Charleston 0, Northeastern 0 *
Delaware 3, William & Mary 2 *
Tuesday, Sept. 12
Drexel at UMass Lowell (ESPN+), 5 p.m.
UNCW at Queens (ESPN+), 6 p.m.
Old Dominion at William & Mary (FloFC), 7 p.m.
Le Moyne at Monmouth (FloFC), 7 p.m.
UMBC at Hofstra (FloFC), 7 p.m.
VMI at Campbell (FloFC), 7 p.m.
Northeastern at Harvard (ESPN+), 7 p.m.
Delaware at Saint Joseph's (ESPN+), 7 p.m.
Elon at High Point (ESPN+), 7 p.m.
Stony Brook at Merrimack, canceled (power outage)
Saturday, Sept. 16
Northeastern at William & Mary * (None), 1 p.m.
Delaware at Stony Brook * (FloFC), 2 p.m.
Hofstra at Campbell * (FloFC), 2 p.m.
Drexel at Monmouth * (FloFC), 7 p.m.
UNCW at Charleston * (FloFC), 7 p.m.
Sunday, Sept. 17
Elon at South Florida (ESPN+), 7 p.m.
WEEKLY AWARDS
OFFENSIVE PLAYER OF THE WEEK
Carlos Fernandez, Delaware
Senior | Forward | A Coruña, Spain / Universidade de Coruña
Fernandez scored four times in a 2-0-0 week for Delaware, including a dramatic hat trick in a come-from-behind league win.
The senior from Spain tallied the game-winner in the 78th minute of a victory Tuesday at Mount St. Mary's, before a thrilling three-goal performance that included two goals in the final four minutes to win 3-2 over William & Mary on Saturday.
DEFENSIVE PLAYER OF THE WEEK
Jacob Randolph, UNCW
Graduate Student | Goalkeeper | Metairie, Louisiana / Jesuit
Randolph collected a pair of shutouts against non-league competition to push UNCW to 3-1-1 to begin 2023.
The grad transfer turned aside seven South Carolina shots in the Seahawks' second-straight win over the Gamecocks, before stopping two ETSU shots to make a 1-0 lead hold up in a Saturday non-conference victory.
ROOKIE OF THE WEEK
Thomas Vold, Northeastern
Freshman | Defense | Høvik, Norway / NTG-U
Vold notched his first career goal and the eventual game-winner in Northeastern's 2-1 win over defending MAAC champion Quinnipiac on Tuesday.
The freshman from Norway followed the tally in Connecticut by playing all 90 minutes defensively in a scoreless draw in Brookline against Charleston on Saturday.
⚽️ Three #CAASoccer 🌟 were named to @TopDrawerSoccer's Team of the Week!

▪️ Carlos Fernandez, @DelawareMSOC
▪️ Jacob Randolph, @UNCWMenssoccer
▪️ Antonio Illuminato, @DrexelMSoccer pic.twitter.com/HCg8rC1pSV

— Coastal Athletic Association (@CAASports) September 12, 2023
2023 CAA MEN'S SOCCER WEEKLY AWARD WINNERS
Offensive Player of the Week
Aug. 28: Sam Donnellan, Delaware
Sept. 4: Amit Magoz, Stony Brook; Ben Zakowski, Monmouth
Sept. 11: Carlos Fernandez, Delaware
Defensive Player of the Week
Aug. 28: Wessel Speel, Hofstra
Sept. 4: Ethan Garvey, Charleston
Sept. 11: Jacob Randolph, UNCW
Rookie of the Week
Aug. 28: Bryan Miralrio, UNCW
Sept. 4: Julian Jordheim, Drexel
Sept. 11: Thomas Vold, Northeastern
NEWS AND NOTES
4x4
Four CAA teams – Charleston, Delaware, Northeastern and Stony Brook – enter the third weekend of conference play with a league-leading four points.
Delaware (4-0-1) and Charleston (2-0-3) enter the week undefeated on the season, with the Blue Hens' .900 winning percentage good for sixth nationally.
Two teams among that top group meet Saturday on Long Island, as Delaware visits Stony Brook. The remaining league slate sees William & Mary host Northeastern, Hofstra visit Campbell, Drexel travel to Monmouth and UNCW take on Charleston.
CAA TRIO NAMED TO NATIONAL TEAM OF THE WEEK
Three CAA players were named to Top Drawer Soccer's Team of the Week for their performances last week.
Delaware's Carlos Fernandez and UNCW's Jacob Randolph – two of the CAA's weekly award winners – were named to the top XI, while Drexel's Antonio Illuminato also was recognized.
LET US CHECK OUR SCHEDULE
CAA programs have put together ambitious slates with the goal of placing multiple teams in the NCAA Tournament – something the league has done in nine of the last 13 seasons.
Elon, Hofstra, UNCW and Northeastern each will play five games against teams that played in last year's NCAA Tournament, while Campbell and William & Mary will take on four opponents that qualified a year ago.
BALANCING ACT
Eight CAA teams have earned a conference weekly honor in the season's first three weeks.
Delaware (two), Monmouth and Stony Brook have collected offensive awards, Hofstra, Charleston and UNCW have earned defensive accolades and rookies from UNCW, Drexel and Northeastern have been recognized.
Knotted up at one!

The long pass up ahead from Danquah sets up Bickus for his first goal of the season.

🌊🐺 x #CAASoccer pic.twitter.com/PYmoUcumWr

— Stony Brook Men's Soccer (@StonyBrookMSOC) September 9, 2023
TEAM NOTES
Adam Yousfi has factored into four of Campbell's five goals this season. He has three goals and an assist.
Charleston has shut out each of its last two opponents.
Delaware's Carlos Fernandez was named to National Team of the Week honors by Top Drawer Soccer and College Soccer News.
Antonio Illuminato notched assists on Drexel's game-tying and game-winning goals Saturday.
On Tuesday, Elon will face High Point for the 57th time in its 52-year program history.
Ryan Carmichael has scored three goals in Hofstra's first five games.
Ben Zakowski's 89th-minute goal secured a draw for Monmouth on Saturday.
Jake Shannon missed a single minute of action for the first time in his UNCW career Saturday due to a contact lens issue.
Northeastern looks for a third-straight win over Harvard since resuming their series in 2021.
Stony Brook has earned results against the two CAA teams to play in last year's NCAA Tournament, posting a win over Elon and draw at Hofstra.
Ian Krajna contributed assists on all three William & Mary goals last week.