2023 Stanford vs Georgetown - Women's
Women's Soccer Games To Watch This Week Sept. 10-Sept. 16
Women's Soccer Games To Watch This Week Sept. 10-Sept. 16
Here's a look ahead at the games to watch for the week ahead on FloFC, including Stanford Vs. Georgetown.
Sep 8, 2023
by Briar Napier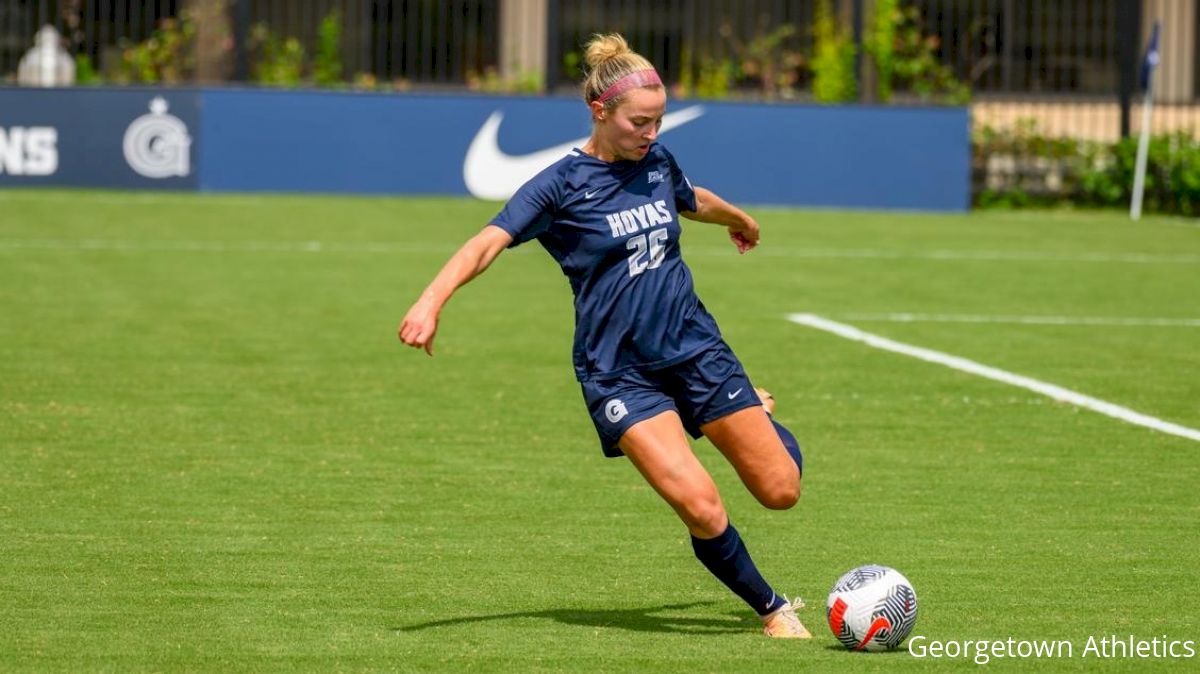 FloFC is broadcasting college soccer matches from NCAA Divisions I, II and III all season long, with each week bringing a new, exciting slate of matchups to check out from its partner conferences.
Here's a look ahead at the games to watch for the week ahead in the BIG EAST, CAA, GLIAC, SAC, GSC and Landmark Conference:
BIG EAST: Stanford Vs. Georgetown
Games of the week don't really get much easier to pick than this. The three-time national champion Cardinal are ranked No. 2 in the latest United Soccer Coaches Top 25 poll and should be one of the favorites for what would be their fourth national title in 12 years. Georgetown, ranked No. 13 in the same poll, can climb further up the ladder with a massive win over a blue-blood program at home. It's going to get electric in the capital city.
CAA: Monmouth Vs. William & Mary
Monmouth ripped the CAA apart in its inaugural regular season in the league last year, capturing the title with a stout defense that allowed just 12 goals throughout the entire campaign. The Hawks' repeat bid has gotten off to a shaky start at 1-3 as of this writing, but a victory against hot-starting William & Mary—on a six-match unbeaten run with three wins—could be the catalyst to get Monmouth back on track.
GLIAC: Ferris State Vs. Grand Valley State
The Anchor-Bone Classic is usually a hotly-contested rivalry no matter what sport it's played in, but GVSU and Ferris' first on-pitch meeting of 2023 has a bit of extra animosity surrounding it this time around. That's because the Bulldogs eliminated the Lakers in penalties in last year's D-II Midwest Regional Final en route to FSU's run to the national semifinals, making this one of women's soccer's top early-season matchups that you'll find anywhere.
SAC: Columbus State Vs. Lincoln Memorial
Columbus State's highly-anticipated matchup against another SAC school, Catawba, was highlighted in last week's games to watch. LMU will be the latest school from the league to get a crack at the Cougars, who like Ferris State are also coming off a national semifinals appearance. After a disappointing 4-11 campaign a season ago, the Railsplitters have started 2023 strong with a pair of wins over Mount Olive and Lees-McRae, though they'll have to pull out all the stops to upset CSU at home.
Landmark: Susquehanna Vs. DeSales
Picked to finish second in the Landmark's preseason poll, Susquehanna has a point to prove as it's tabbed to be the biggest threat toward Scranton's potential four-peat of conference titles. After a season opening loss to No. 5-ranked Misericordia, the River Hawks—who had an 11-match shutout streak last year—will be looking to get back to consistent winning as a three-match week looms, with the showdown against DeSales being in the middle of it and also acting as Susquehanna's home opener.