2023 Wisconsin vs Marquette - Men's
Men's Soccer Games To Watch This Week Sept. 10-Sept. 16
Men's Soccer Games To Watch This Week Sept. 10-Sept. 16
Here's a look ahead at the games to watch for the week ahead on FloFC, including Wisconsin Vs. Marquette.
Sep 8, 2023
by Briar Napier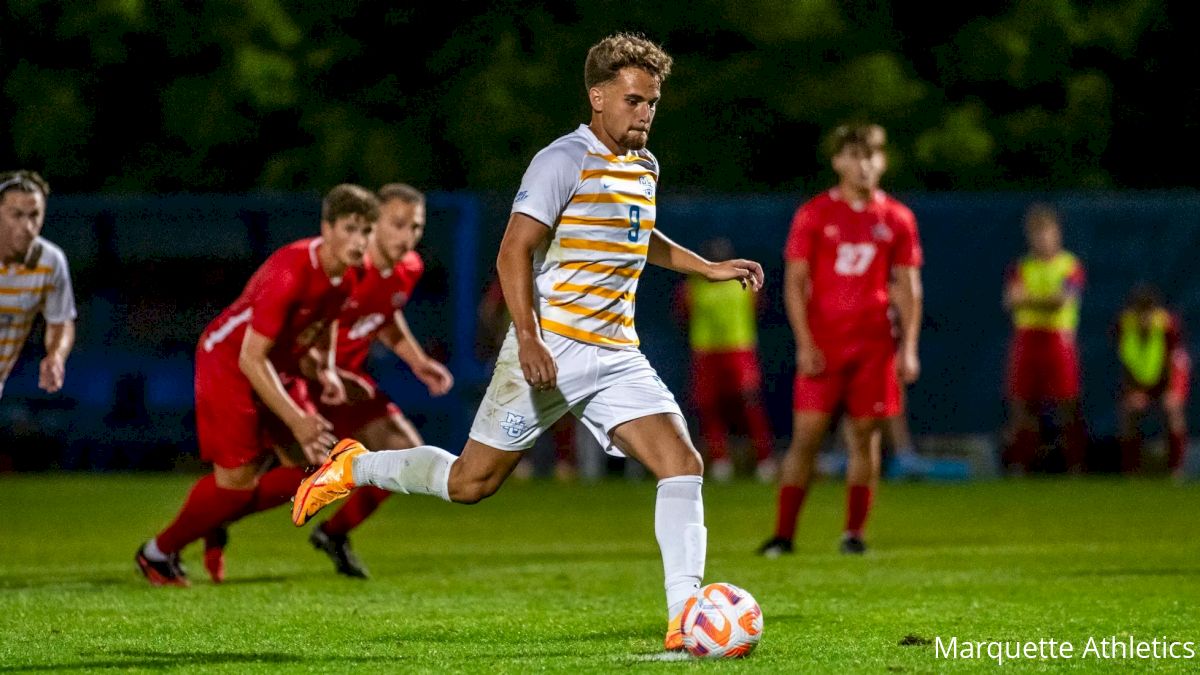 FloFC is broadcasting college soccer matches from NCAA Divisions I, II and III all season long, with each week bringing a new, exciting slate of matchups to check out from its partner conferences.
Here's a look ahead at the games to watch for the week ahead in the BIG EAST, CAA, GLIAC, SAC and Landmark Conference:
BIG EAST: Wisconsin Vs. Marquette
Ahead of a classic rivalry clash, the Golden Eagles have been a surprise early-season leader at the top of the BIG EAST standings at 4-0 (as of this writing) after finishing last in the league in 2022. Beating the Badgers would be a major step toward Marquette proving that it is indeed for real, especially considering that Wisconsin holds a win over a then No. 2-ranked Kentucky squad that it captured on Sept. 1.
CAA: UNCW Vs. Charleston
With a draw at former top-10 team Clemson on its resume, UNCW — now with reigning All-CAA Second Team defender Josef Hefele back in the fold after he missed the first two games of the year—is chugging along, though is also looking for a bounce back in league play after losing its CAA opener to Northeastern. Meanwhile, unbeaten Charleston has no plans to slow down for either the Huskies or Seahawks, whom the Cougars face on back-to-back Saturdays this week and next.
GLIAC: Davenport Vs. Northern Michigan
This league matchup has guaranteed two things in recent years. First, it's almost always a close and tense encounter, as eight of the past nine DU-NMU meetings on the pitch have either finished as draws, gone to overtime/penalties, or been one-goal games. Second, in that same nine-game stretch, Davenport has never been beaten by the Wildcats, going 6-0-3 in the process. Will the Panthers' dominance in the series continue in their first meeting of 2023?
SAC: Wingate Vs. Carson-Newman
Wingate, the 2016 D-II national champion, hasn't reached those heights since, but the Bulldogs will almost always be a dangerous squad for as long as they're under the tutelage of Gary Hamill, now in his 32nd season at the helm. A pair of season opening defeats to No. 7 Rollins and No. 11 Florida Tech shouldn't change that fact too much as Carson-Newman comes to Wingate in a conference matchup following the Eagles' fifth-place league finish last year.
Landmark: Wilson Vs. Goucher
Credit to the Gophers for rocketing out to a 3-0 start to the year, led by three goals from junior forward Michael Adekanmbi to start his season. Goucher's start could be as good as 5-0 entering its matchup with Wilson next week, which will be in the Gophers' favor after they blitzed the Phoenix 4-0 in their meeting a season ago off the back of finding the back of the net a quartet of times in a 16-minute second half stretch.