BIG EAST Women's Soccer
BIG EAST Women's Weekly Awards - Sept 5th, 2023
BIG EAST Women's Weekly Awards - Sept 5th, 2023
The second week of the BIG EAST women's season has concluded, revealing the players who earned Player of the Week awards.
Sep 8, 2023
by Nicole Beckelman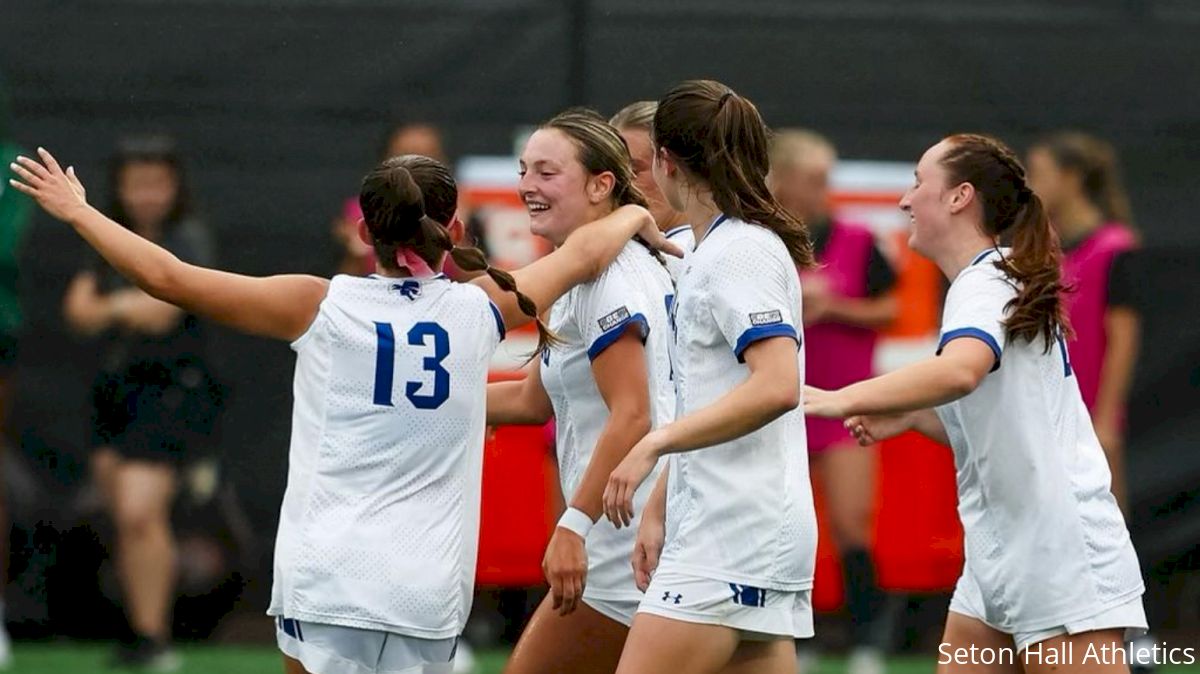 BIG EAST Offensive Player of the Week
Natalie Tavana, Seton Hall, Jr., M
Tavana powered the Seton Hall offense to an undefeated week, scoring three goals on 12 total shots and six shots on goal in the Pirates' two wins. Her hat trick against Binghamton was the first for the Pirates since 2006 and gave her a conference-leading four total goals on the year. Her performance has also placed her atop the conference in points, total shots, goals per game, points per game and shots per game this season. Tavana consistently applied pressure over the week's slate, totaling seven shots (4 SOG) against Binghamton and five (2 SOG) against Rider, as the Pirates were one of two conference teams to total 30 or more shots during the week.
BIG EAST Defensive Player of the Week
Brianne Riley, Georgetown, Gr., D
Riley anchored a Georgetown defense that didn't allow a single goal over two games last week, leading to two wins to improve to 3-0-1 overall on the year. The graduate defender was integral in allowing just three shots on goal and 11 total shots over the week, including zero shots on goal in the Hoyas 1-0 win over Bucknell on Thursday. Georgetown further dominated their opponents, including RV Virginia Tech, with a 13-4 advantage on corners throughout the week. To cap off her defensive efforts, Riley scored the game-winning goal in the 86th minute against Bucknell to secure the win in the Hoyas' home opener.
BIG EAST Goalkeeper of the Week
Morgan Fedosiewich, Seton Hall, Gr., GK
Fedosiewich posted back-to-back solo clean slates in Seton Hall's undefeated week to push the Pirates to 3-1 on the season. The graduate goalkeeper totaled four saves across two games, three of which came in a 3-0 win against Binghamton on Thursday.
BIG EAST Freshman of the Week
Lily Camacho, Seton Hall, Fr., D
Camacho played the full 90 minutes in back-to-back shutouts over the week, securing the Seton Hall backline. The freshman defender helped the Pirates hold a 35-15 advantage in shots and a 15-4 advantage in shots on goal. This included a 22-4 shot advantage, 8-1 shots on goal advantage, and 5-1 corners advantage in Sunday's 1-0 win over Rider.
BIG EAST Weekly Honor Roll
Makayla Stadler, Villanova, Gr., F – Scored two goals on three shots in win over Temple in her season debut; credited with game-winning goal in the match
Allie Augur, Georgetown, Gr., GK – went 2-0 in goal with back-to-back solo clean slates, posting three total saves in wins over Bucknell and RV Virginia Tech
Lauryn Tran, St. John's, Jr., M – posted a career-best two assists in Sunday's 3-0 win at Colgate; one of just three conference players with multiple assists on the week
Regan Dancer, Xavier, So., F – recorded a goal and an assist in Sunday's 5-1 win over Western Kentucky, following a match-high four shots against Illinois on Thursday
Meg Hughes, Providence, Sr., F – netted the game-winning goal in 1-0 win at Rhode Island on Sunday to push Providence to 3-0 on the year