BIG EAST Men's Soccer
BIG EAST Men's Weekly Awards - Sept. 5th, 2023
BIG EAST Men's Weekly Awards - Sept. 5th, 2023
The second week of the BIG EAST men's season has concluded, revealing the players who earned Player of the Week awards.
Sep 7, 2023
by Nicole Beckelman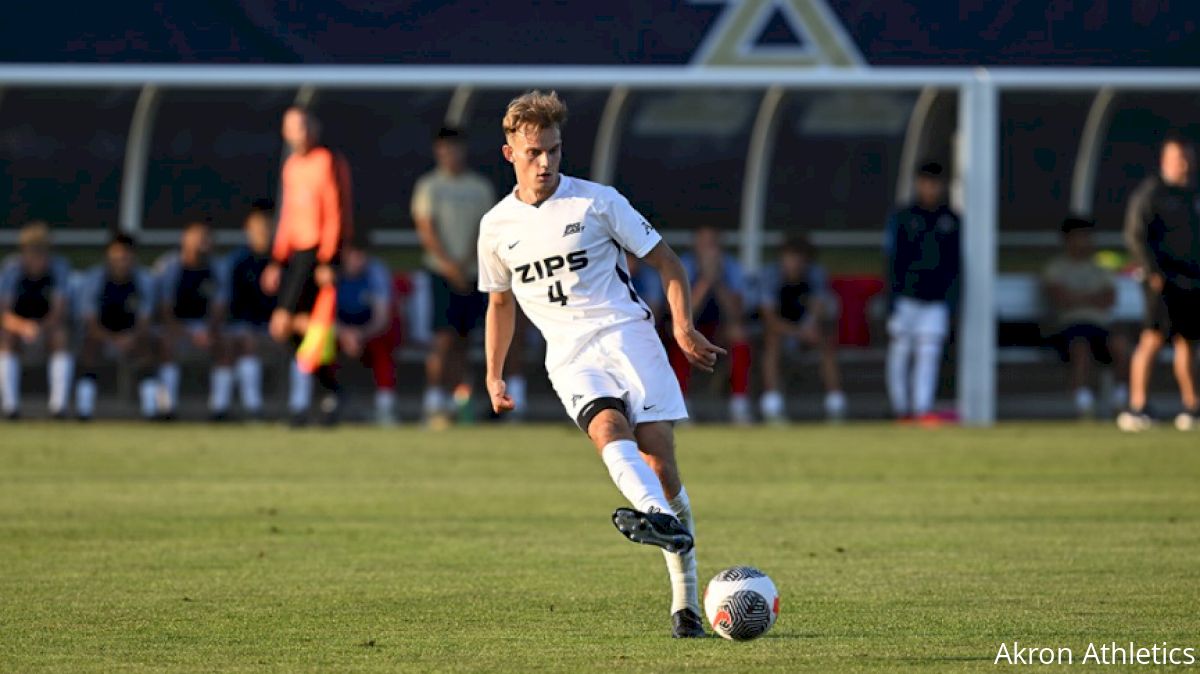 BIG EAST Offensive Player of the Week
Kyle Linhares, Georgetown, Sr., M (Teaneck, N.J.)
Linhares led the Hoyas' offense in a pair of matches, leading Georgetown to a dominant top-10 win over Pittsburgh (4-1), before a 3-3 tie against Fordham. Overall, he co-led the BIG EAST with six points in a pair of matches, tallying a pair of goals and dishing out two assists. Linhares opened the game against the Panthers with one-time volley in the sixth minute, before tripling the Georgetown lead with a clinical finish to the far post. Linhares scored his fifth point of the game in the second half, connecting with Joe Buck for the Hoyas' fourth goal of the outing. On Monday against Fordham, the senior midfielder added another assist to his resume.
BIG EAST Defensive Player of the Week
Jonas Buechte, Akron, Jr., D (Rantingen, Germany)
Buechte continued his strong play this season over three games last week as the Zips posted a pair of shutouts while still not surrendering a goal in the run of play this season. Buechte sparked Akron to a 1-0 victory over then-No. 7 Vermont on Aug. 28 as the Zips held the Catamounts, who entered the game averaging 20.0 shots per game, off the scoreboard en route to a triumph on Dyson Clapier's 61st-minute tally. Buechte again shined at Michigan on Friday as only a first-half penalty kick kept Akron from registering its third straight shutout. Buechte then helped limit Southern Indiana to only three shots in a 1-0 triumph on Monday. Offensively, Buechte added a pair of shots on the week.
BIG EAST Goalkeeper of the Week
Ludvig Målberg, Marquette, So., GK (Västra Götaland, Sweden)
A stalwart in net for the Golden Eagles, Målberg improved to 4-0-0 on the season with a pair of shut out victories over Detroit Mercy (6-0) and Harvard (1-0). In the lopsided victory on Friday, the sophomore goalkeeper came up big on five saves, while facing 11 shots. On Monday, Målberg denied each of Harvard's scoring opportunities, while corralling two saves. Overall, he has 15 saves in a quartet of games with a 0.882 save percentage, along with three consecutive shut outs.
BIG EAST Freshman of the Week
Pearse O'Brien, Providence, Fr., M (West Hartford, Conn.)
Making his first collegiate start on Friday, O'Brien registered his first career goal against Hofstra. On Monday against Rhode Island, the freshman midfielder dished out the game-winning assist in the 89th minute, to lead Providence to a 2-1 triumph. Overall, he is tied for first on the team with four points, while logging 253 minutes through four games.
BIG EAST Weekly Honor Roll
Caleb Norris, Butler, R-Sr., GK (Grand Blanc, Mich.)
Norris earned his first career shutout on Monday, while making a career-high eight saves.
Maximus Jennings, Georgetown, Jr., D (Montclair, N.J.)
Jennings registered his first collegiate goal on Monday against Fordham, while also making an incredible save off the back line to preserve the tie. Against then-No. 8 Pittsburgh, he anchored the backline to take a commanding 4-0 lead in a 4-1 victory.
Noah Madrigal, Marquette, Sr., F (Peoria, Ill.)
Led the Marquette scoring attack against Detroit Mercy with a pair of goals and an assist, to cap the week with five points.
Nicolas Fleuriau Chateau, St. Johns, R-Jr., F (Ottawa, Ontario, Canada)
Fleuriau Chateau netted the first two goals of his collegiate career in a 2-2 draw against reigning Big Ten Champion Rutgers on Monday. He followed up with a game-winner against Monmouth, part of the Johnnies' 1-0 victory on Friday.
Jerome Jolly, Xavier, Sr., F (Garstang, England)
Scored the game-winning goal in Monday's 1-0 win over Cleveland State, the preseason favorite to win the Horizon League after capturing the 2022 Horizon League Title and advancing to the NCAA Tournament.