Women's Big Ten Soccer
CAA Women's Soccer Weekly Awards - Sept. 5, 2023
CAA Women's Soccer Weekly Awards - Sept. 5, 2023
The second week of the CAA women's season has concluded, revealing the victorious teams and highlighting the recipients of the weekly awards.
Sep 6, 2023
by Nicole Beckelman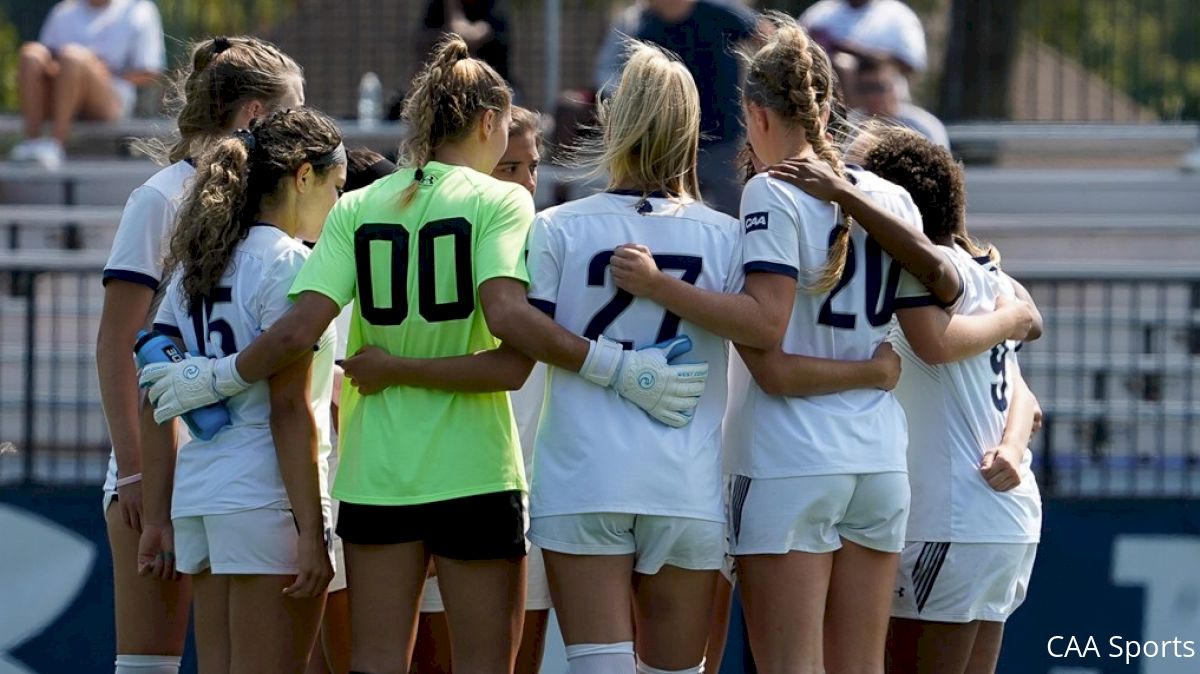 RESULTS
Thursday, August 31
Delaware 4, Saint Francis 1
Stony Brook 2, Fordham 2
Hofstra 2, FDU 1
South Carolina 2, Elon 0
East Carolina 2, UNCW 0
Mercer 2, Charleston 1
William & Mary 4, George Mason 0
Friday, September 1
Mount St. Mary's 2, Hampton 1
Quinnipiac 2, Drexel 1
Sunday, September 3
Hofstra 1, Saint Joseph's 0
Georgia Southern 3, Charleston 1
Penn State 4, Monmouth 1
Drexel 1, UMass Lowell 0
UNCW 3, Queens Charlotte 0
William & Mary 1, Old Dominion 1
Northeastern 1, Boston University 1
UNCG 2, Elon 0
WEEKLY AWARDS
OFFENSIVE PLAYER OF THE WEEK
Jasmine Hamid, Towson
Senior | Forward | Alexandria, Va. / Bishop Ireton
Hamid scored four times in Towson's 8-1 rout of local rival UMBC on Thursday night. The senior from Northern Virginia doubled the Tiger lead to 2-0 in the 12th minute and added goals 27 seconds apart in the 32nd and 33rd minute before capping off her evening with a 52nd minute strike. The four goals are tied for the most in the nation against a Division I opponent this fall.
DEFENSIVE PLAYER OF THE WEEK
Joella Chase, Drexel
Graduate Student | Goalkeeper | Rutherford, N.J. / Bergen County Academies
Chase collected her first career clean sheet in Drexel's 1-0 win at UMass Lowell on Sunday afternoon. The grad transfer from Georgetown made four saves while playing all 90 for the first time in her collegiate career. The shutout was Drexel's fourth in six games to begin the year.
ROOKIE OF THE WEEK
Lindsay Wilson, William & Mary
Freshman | Midfield | Scituate, Mass. / Notre Dame Academy
Wilson scored two goals and added an assist in Thursday's 4-0 victory over George Mason to help William & Mary complete a historic non-conference slate. The freshman from Massachusetts contributed to three of the four Tribe goals in 28 minutes of action as W&M went undefeated through non-league play for the first time in program history.
2023 CAA WOMEN'S SOCCER WEEKLY AWARD WINNERS
OFFENSIVE PLAYER OF THE WEEK
Aug. 21: Olivia Pearse, Hofstra
Aug. 28: Annalena O'Reilly, Drexel
Sept. 4: Jasmine Hamid, Towson
DEFENSIVE PLAYER OF THE WEEK
Aug. 21: Nora Green-Orset, William & Mary
Aug. 28: Lily Dunbar, Drexel; Riley Melendez, Towson
Sept. 4: Joella Chase, Drexel
ROOKIE OF THE WEEK
Aug. 21: Gabby Hoschek, Elon
Aug. 28: Alyssa Tucker, Campbell
Sept. 4: Lindsay Wilson, William & Mary