Women's Soccer Games To Watch This Week Sept. 3-Sept. 9
Women's Soccer Games To Watch This Week Sept. 3-Sept. 9
Here's a look ahead at the games to watch for the week ahead on FloFC.
Sep 1, 2023
by Briar Napier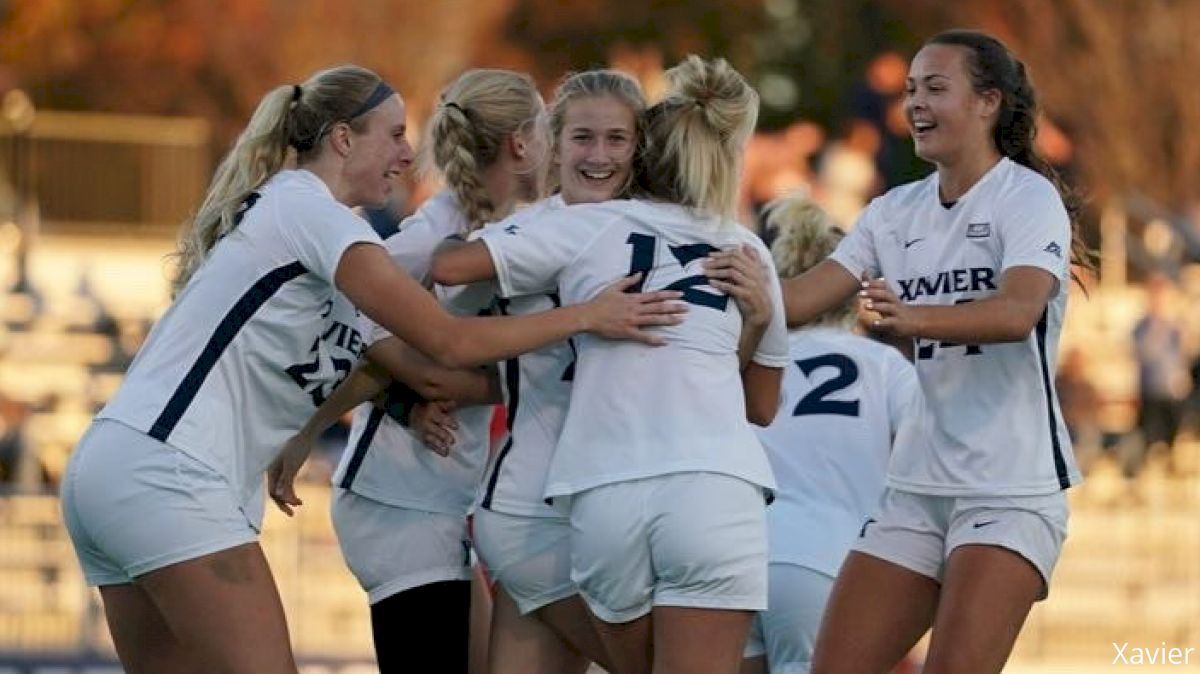 FloFC is broadcasting college soccer matches from NCAA Divisions I, II and III all season long, with each week bringing a new, exciting slate of matchups to check out from its partner conferences.
Here's a look ahead at the games to watch for the week ahead in the BIG EAST, CAA, GLIAC, SAC, GSC and Landmark Conference:
NOTE: All match times are listed in Eastern Time and are subject to change.
BIG EAST: Pitt vs. Xavier, 7 p.m. Thursday
Xavier is 4-1 (as of Friday morning) and appears as if it hasn't missed a beat from winning its second-ever NCAA Tournament game a year ago when it went on the road to defeat Tennessee. A good way to prove the Musketeers are here to stay would be by upending a currently 5-0 Pitt which made the NCAA tourney Round of 16 last year, has a pair of dangerous forwards in Sarah Schupansky and Amanda West and possesses a star freshman midfielder in Deborah Abiodun, who played for Nigeria at this summer's FIFA Women's World Cup.
This Bostonian rivalry is always worth a watch, with the Huskies picking up their first win over the Terriers since 2018 last year thanks to an Alexis Legowski goal. The former All-CAA First Team midfielder is back in the mix for Northeastern to try and do similar against Boston U next week while the Huskies continue to chase future postseason glory, having fallen in the CAA Championship final this past season in double overtime.
The seven-time national champion Lakers were denied a chance at an epic title three-peat in 2022 after hated rival Ferris State eliminated them in the NCAA Midwest Regional final. GVSU should be among the best in D-II once again, with the Marauders (coming off a strong 10-5-4 record this past year) providing a formidable early-season test primarily due to the fact that they only allowed 12 goals across the entire season.
A 6-0 blitz of Chowan — as Catawba did in its season opener Thursday — was impressive enough, but do you know what would really skyrocket expectations after a 16-win campaign in 2022? Beating Columbus State, which made a run to the national semifinals for the third time in program history under coach Jay Entlich, who has won over 300 games in his time with the Cougars.
Landmark: Drew vs. Coast Guard, 3:30 p.m. Saturday
Drew's annual Fall Festival will be broadcast in its entirety on FloFC, and with the Rangers expected to contend near the top of the Landmark, a strong weekend on home turf will be demanded. Coast Guard beat Drew at this event a year ago, however, giving players like goalscoring machine Alexa Krause (15 last year) some extra motivation to get the job done this time around.