Men's Soccer Games To Watch This Week Sept. 3-Sept. 9
Men's Soccer Games To Watch This Week Sept. 3-Sept. 9
Here's a look ahead at the games to watch for the week on FloFc.
Sep 1, 2023
by Briar Napier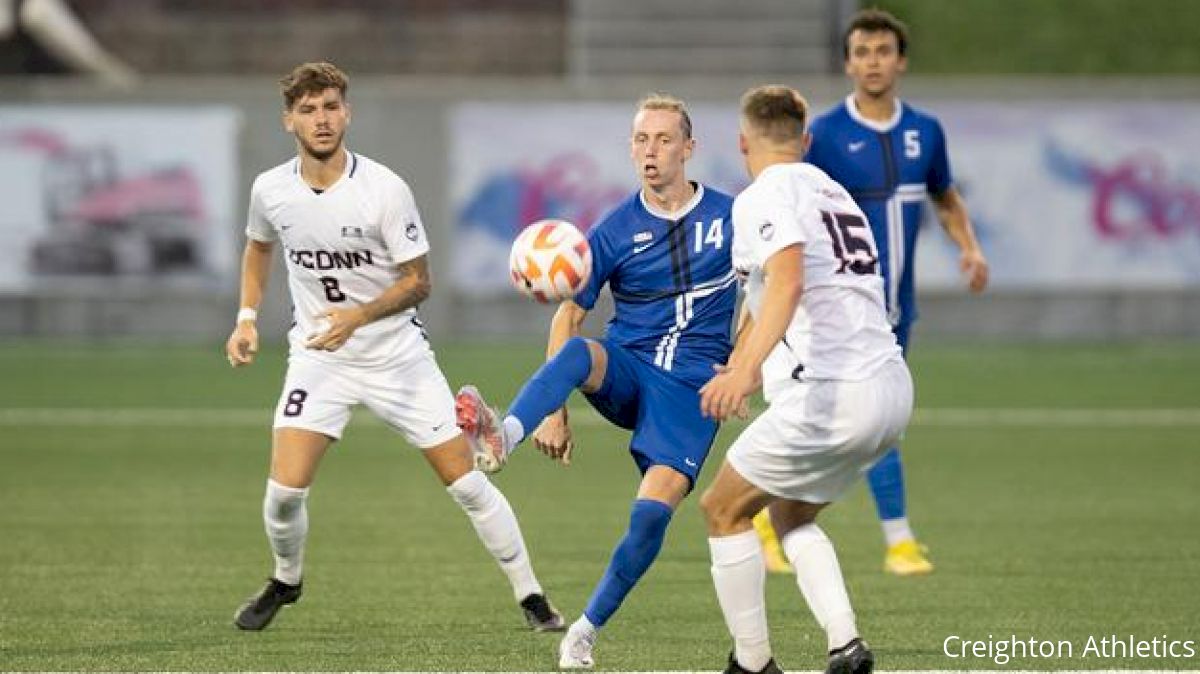 FloFC is broadcasting college soccer matches from NCAA Divisions I, II and III all season long, with each week bringing a new, exciting slate of matchups to check out from its partner conferences.
Here's a look ahead at the games to watch for the week ahead in the BIG EAST, CAA, GLIAC, SAC and Landmark Conference:
NOTE: All match times are listed in Eastern Time and are subject to change.
After a season opening defeat to Stanford in a nationally ranked, top-10 showdown, Creighton — the BIG EAST's Midwest Division favorites — will be trying to establish some momentum in non conference play before the grind of the league slate gets underway in mid-September. Frequent Big Ten Conference contender Michigan will visit Omaha to give the Bluejays a perfect chance to do exactly that.
CAA: Penn vs. Hofstra, 7 p.m. Monday
Last year's Ivy League champion, Penn returns a double-digit goalscorer in Stas Korzeniowski, which should make for tantalizing battles in the box with Pride goalkeeper Wessel Speel, a Preseason All-CAA pick between the sticks. Hofstra's CAA three-peat bid has gone off to a bit of a so-so start after it split its first two games of the season, but a strong result against the Quakers would be an excellent early-season win to get.
Both qualifiers in Super Region 3 in last year's NCAA D-II tourney, the Cardinals and Dragons looked to be on a collision course to battle for the region title before each lost in the semifinals to lower-seeded teams. They'll instead make that meeting happen early this season on FloFC, with reigning GLIAC Defensive Player of the Year Benjamin Adamson continuing to lead a SVSU back line that should once again be one of the country's stiffest.
A 10-win campaign last year with a narrow loss to Lenoir-Rhyne in the final of the SAC tournament means that Lincoln Memorial is on the hunt for redemption this time around as it looks for a return to the NCAA Tournament for the first time since 2017. The Railsplitters' home opener against Thomas More will truly be a wild-card match — the Saints are in their inaugural D-II season after making the jump up from the NAIA.
Landmark: MIT vs. Scranton, 1 p.m. Sunday
Scranton qualified for last year's NCAA D-III Tournament after making a massive run to capture the Landmark tournament championship as a No. 4 seed, winning its final four games of the regular season/conference tourney (all by one goal) to earn its way there. The Royals' 2022 home opener against MIT will be their first game back in front of home support since then, but the Engineers, with four straight winning seasons, won't be an easy opponent to tame out of the gates.