BIG EAST Women's Soccer
Georgetown On Top of BIG EAST Women's Soccer Preseason Poll
Georgetown On Top of BIG EAST Women's Soccer Preseason Poll
The BIG EAST Conference announced the Preseason Coaches' Poll and all-conference awards.
Aug 24, 2023
by Nicole Beckelman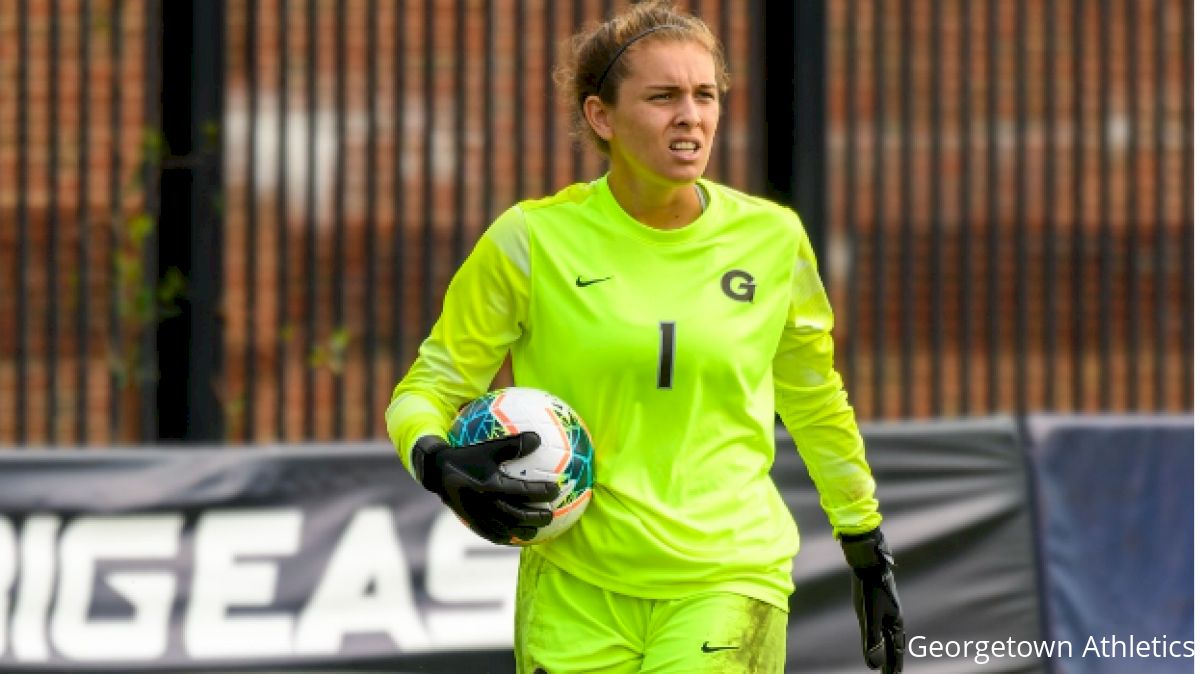 The 2023 BIG EAST Preseason Women's Soccer Coaches' Poll was unveiled on Thursday and after winning its sixth BIG EAST Championship in the last seven seasons, Georgetown was projected to remain at the top of the conference as the upcoming season is set to begin. Two Hoyas earned preseason major awards as graduate student midfielder Julia Leas was selected as BIG EAST Preseason Defensive Player of the Year and graduate Allie Augur was voted BIG EAST Preseason Goalkeeper of the Year, both by unanimous votes. Rounding out the major award winners was Butler redshirt senior forward Abby Isger who was picked BIG EAST Preseason Offensive Player of the Year. Isger, Leas and Augur all earned major awards following the 2022 season and enter 2023 as the reigning BIG EAST Offensive Player of the Year, Defensive Player of the Year and Goalkeeper of the Year. The poll, major awards and Preseason All-BIG EAST Team are decided by a vote of the league's head coaches who are not permitted to vote for their own teams.
Georgetown, which finished undefeated in BIG EAST play at 8-0-2 and won the BIG EAST regular-season title in the fall of 2022, received all ten available first-place votes and a total of 100 points to lead the voting. Following the Hoyas was last season's BIG EAST Championship runner-up Xavier, which received a single first-place vote and a total of 89 points after also going unbeaten in BIG EAST play last season at 6-0-4. Coming in third in the polling was St. John's with 73 points, with Butler trailing them at fourth with 69 points, while Creighton was voted fifth with 67 points. Following was UConn at sixth with 63 points, while Providence was chosen seventh with 47 points and Marquette eighth with 34 points. Rounding out the poll was Villanova in ninth with 33 points, while DePaul and Seton Hall were separated by two points with the Blue Demons chosen tenth with 16 points and the Pirates selected eleventh with 14 points.
Congrats to Julia Leas, Allie Augur and Eliza Turner on being named to the Preseason All-BIG EAST team!#HoyaSaxa pic.twitter.com/jAqMcnvWVc

— Georgetown Women's Soccer (@HoyasWSoc) August 10, 2023
In addition to their major awards, Leas, Augur and Isger were voted to the 11-member Preseason All-BIG EAST Team, with Leas and Augur being unanimous selections. Joining them were Butler's Talia Sommer, UConn's Chioma Okafor, Creighton's Lara Kazandjian, Georgetown's Eliza Turner, Providence's Meg Hughes, St. John's' Jessica Garziano and Xavier's Natalie Bain and Ella Rogers.
The preseason front-runner Georgetown is coming off a 15-2-5 season, which included its sixth BIG EAST Championship crown with a 1-0 win over Xavier. The Hoyas earned an NCAA Tournament invite for the 11th consecutive year, and advanced to the second round. Georgetown will start the 2023 season ranked No. 16 in the United Soccer Coaches National Preseason Poll.
Leas returns to the Hoyas after being unanimously selected as the BIG EAST Defensive Player of the Year last season, while also being named a semifinalist for the MAC Hermann Trophy and a United Soccer Coaches First Team All-American. Leas is the anchor of a Georgetown back line that boasted the nation's best shutout percentage last season at .727. The Hoyas totaled 16 shutouts last year, while not allowing a goal in nine of their ten conference games, surrendering a league-best two goals in BIG EAST play. The Hoyas were also tied for third in the nation in goals against average at .455.
Augur also returns to the Hoyas to build on a monumental season in which she was named BIG EAST Goalkeeper of the Year. In 2022, Augur finished second among Division I goalkeepers in goals against average at .333, while leading the BIG EAST in shutouts per game with 0.83. Augur's .846 save percentage and ten total shutouts were also good for second in the conference.
Butler's Isger is coming off a season in which she was named BIG EAST Offensive Player of the Year, becoming the second Bulldog to win the award. Isger was the BIG EAST's leading scorer last season with eight goals, while also finishing first in the conference with 20 points. Powering a Butler offense that was one of four teams in the conference to score 30+ goals, Isger finished second in the BIG EAST in both goals per game (0.47) and points per game (1.18).
After leading the BIG EAST with 8 goals and 20 points last year en route to the Offensive Player of the Year award, this was an easy choice by the coaches for Preseason Offensive POTY!

Congratulations to @ButlerUWSoccer's Abby Isger! pic.twitter.com/upY4t3iWXB

— BIG EAST Conference (@BIGEAST) August 10, 2023
The BIG EAST sent two teams to the NCAA Women's Soccer Championship in 2022, with Georgetown earning a five seed and Xavier an at-large bid. Both teams advanced to the second round of the tournament, with Xavier advancing for the second time in program history. The conference also saw five schools receive United Soccer Coaches Honors last year, with Georgetown and Xavier represented with All-American honors, while 11 student-athletes from Butler, Creighton, Georgetown, St. John's and Xavier were named to All-Regional Teams.
In addition to school-provided non-conference coverage, all regular-season BIG EAST matches not selected for national television will stream live on the BIG EAST Digital Network available on FloSports.
BIG EAST Preseason Women's Soccer Coaches' Poll
(first-place votes)
1. Georgetown 100 (10)
2. Xavier 89 (1)
3. St. John's 73
4. Butler 69
5. Creighton 67
6. UConn 63
7. Providence 47
8. Marquette 34
9. Villanova 33
10. DePaul 16
11. Seton Hall 14
Preseason BIG EAST Offensive Player of the Year
Abby Isger, Butler, R-Sr., F
Preseason BIG EAST Defensive Player of the Year
Julia Leas, Georgetown, Grad., D*
Preseason BIG EAST Goalkeeper of the Year
Allie Augur, Georgetown, Grad., GK*
Preseason All-BIG EAST Team
Abby Isger, Butler, R-Sr., F
Talia Sommer, Butler, So., F/M
Chioma Okafor, UConn, So., F
Lara Kazandjian, Creighton, Sr., M
Allie Augur, Georgetown, Grad., GK*
Julia Leas, Georgetown, Grad., D*
Eliza Turner, Georgetown, Jr., M
Meg Hughes, Providence, Sr., F
Jessica Garziano, St. John's, Grad., F
Natalie Bain, Xavier, So., D
Ella Rogers, Xavier, Jr., M
*unanimous selection