South Atlantic Conference Women's Soccer
Catawba Picked As 2023 SAC Women's Soccer Preseason Favorite
Catawba Picked As 2023 SAC Women's Soccer Preseason Favorite
Catawba has been selected as the South Atlantic Conference favorite for the 2023 women's soccer season, the conference office announced today.
Aug 16, 2023
by Nicole Beckelman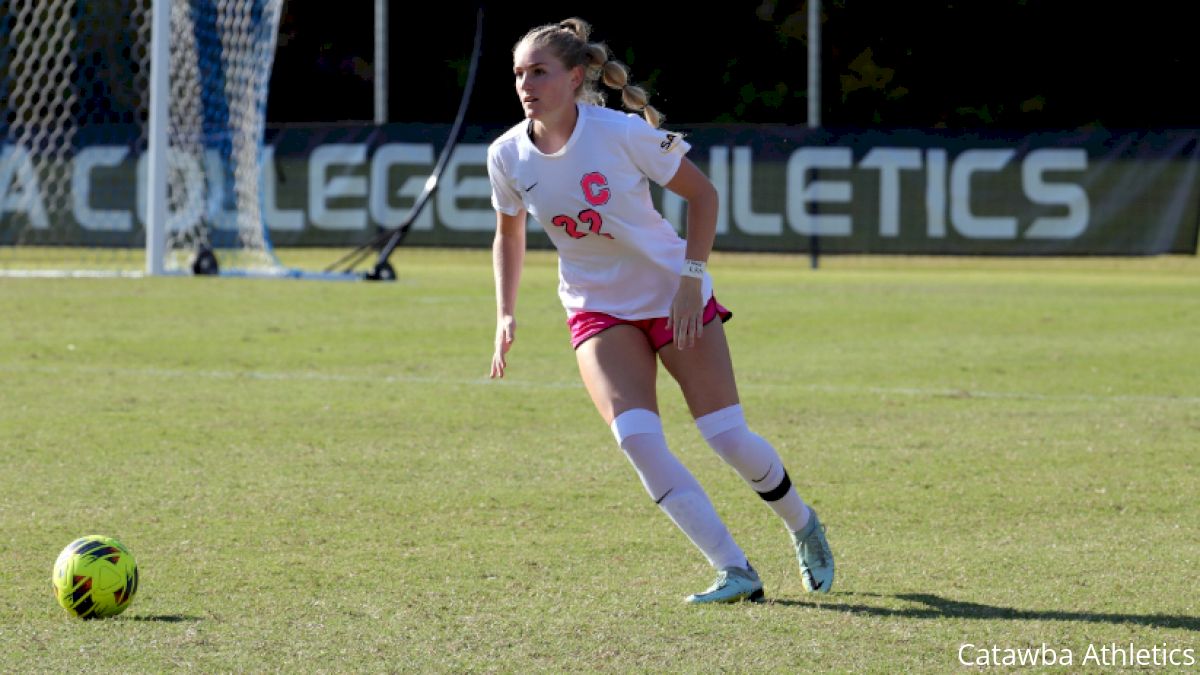 The Catawba Indians were picked first after receiving eight first place nods and 118 overall points. They finished the 2022 season with an overall record of 16-3-3 and a conference record of 8-1-2. After falling to Wingate in the SAC Women's Soccer Championship Semifinals, the Catawba Indians were selected to play in the NCAA DII Southeast Regional, defeating Wingate in the opening round 2-0 and falling to Flagler in a penalty shootout by a score of 5-4.
Lenoir-Rhyne was tabbed No. 2 in the poll with four first place votes and 114 overall points. In 2022, the Bears went 12-4-3 overall and 9-2 in SAC play to earn the 2022 SAC Women's Soccer Regular Season title. They fell to Limestone in the SAC semifinals and played two rounds in the NCAA DII Southeast Regional, defeating Limestone 1-0 and falling to No. 3 Columbus State 0-1.
Wingate was picked third in the preseason poll with 96 points, followed by Carson-Newman in the four-spot with 92 points. Limestone was tagged in the No. 5 spot in the poll, collecting 81 points, while Anderson was picked as the No. 6 team with 75 points.
Newberry sits in seventh with 55 points, Tusculum is No. 8 with 46 points, and Lincoln Memorial collected the No. 9 spot with 43 points.
Rounding out the preseason poll is Coker in the No. 10 spot with 33 points, Mars Hill in the No. 11 spot with 26 points, and Emory & Henry in the No. 12 spot with 13 points.
In addition to the 2023 SAC Women's Soccer Preseason Coaches' Poll, the 2023 SAC Women's Soccer Preseason All-Conference teams were also announced. Voted on by the league's media relations directors, the preseason all-conference teams feature seven players from Lenoir-Rhyne, six players from Catawba and Anderson, five players from Wingate, three players from Tusculum and Carson-Newman, two each from Newberry and Limestone, and a single player from Mars Hill, Coker, and Lincoln Memorial.
The 2023 SAC Women's Soccer Championship will take place November 10th and 12th at the Sportsplex at Matthews in Matthews, N.C.
2023 SAC Women's Soccer Preseason Coaches' Poll
School (First Place Votes) Points
1. Catawba (8) 118
2. Lenoir-Rhyne (4) 114
3. Wingate 96
4. Carson-Newman 92
5. Limestone 81
6. Anderson 75
7. Newberry 55
8. Tusculum 46
9. Lincoln Memorial 43
10. Coker 33
11. Mars Hill 26
12. Emory & Henry 13
2023 SAC Women's Soccer Preseason All-Conference
First Team
F – Elin Hansson, Lenoir-Rhyne
F – Hannah Dunn, Catawba
F – Helen Summerell, Catawba
F – Jaidyn Jacobs, Newberry
MF – Sydney Jimmo, Catawba
MF – Kasey Hahn, Catawba
MF – Caroline Peters, Wingate
MF – Ria Acton, Lenoir-Rhyne
D – Kelly Havens, Catawba
D – Louise Berg, Lenoir-Rhyne
D – Kate Casey, Lenoir-Rhyne
D – Sascha Larsen, Wingate
GK – Samantha Aguilar-Hopkins, Limestone
Second Team
F – Sydney Grant, Tusculum
F – Emma Deadwyler, Anderson
F – Brianna Ditillo, Wingate
F – Addie Henry, Carson-Newman
MF – Neve Duston, Lenoir-Rhyne
MF – Camryn Woods, Anderson
MF – Carola Busquets, Lenoir-Rhyne
MF – Marianne Ross, Mars Hill
D – Carly Keuffer, Anderson
D – Nicole Cristy, Wingate
D – Nour Noujaim, Coker
D – Abbie Zander, Carson-Newman
GK – Katrine Thisgaard, Wingate
Third Team
F – Corinne Denton, Lincoln Memorial
F - Stina Roswall, Limestone
MF – Evan O'Leary, Lenoir-Rhyne
MF – Felicia Frick, Carson-Newman
MF – Sharon Mayes, Catawba
MF – Bethany Anderson, Anderson
D – Kristen Cole, Anderson
D – Meggie Powell, Anderson
D – Marja Enste, Tusculum
D - Emily Castaneda, Newberry
GK – Grayson Patterson, Tusculum