BIG EAST Men's Soccer
BIG EAST MLS SuperDraft Picks: A Breakdown Of Every BIG EAST Star Selected
BIG EAST MLS SuperDraft Picks: A Breakdown Of Every BIG EAST Star Selected
Nine of the BIG EAST's top players were selected in the 2023 MLS SuperDraft, the annual college draft for America's top-tier domestic soccer league.
Dec 23, 2022
by Briar Napier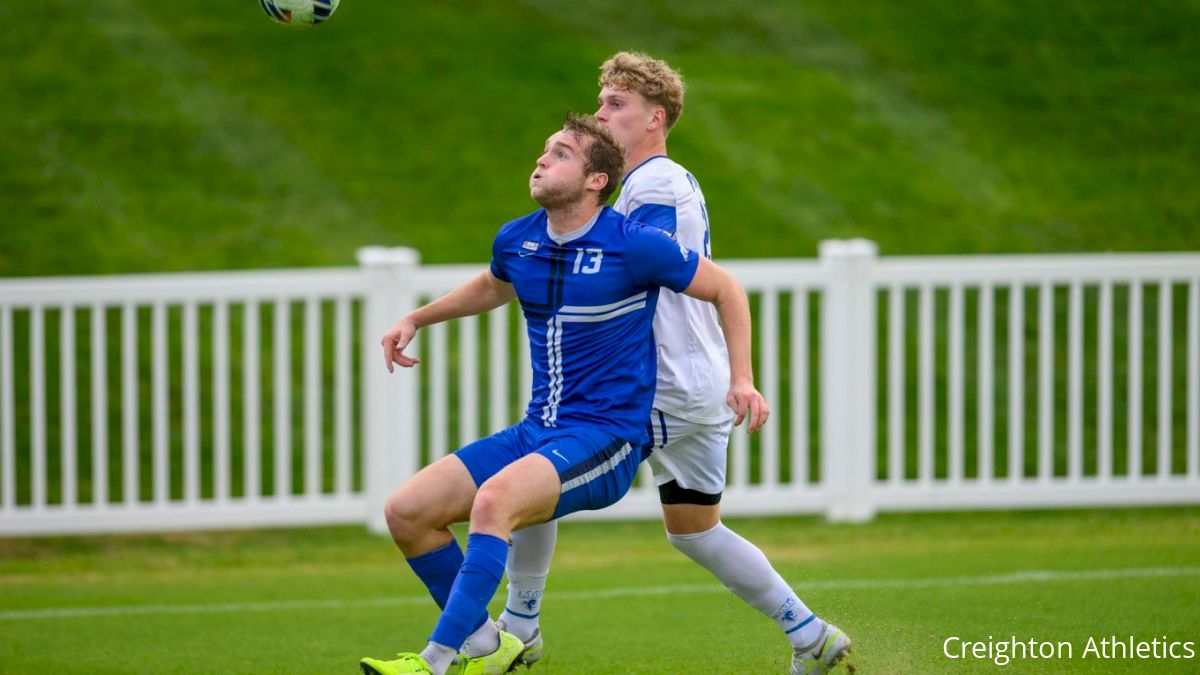 The standout performers of the BIG EAST men's soccer season thrilled audiences with some of the best talent found anywhere in collegiate soccer.
Now, some of those same performers will get to thrill a national audience.
Nine of the BIG EAST's top players from the recent season were selected in the 2023 MLS SuperDraft held Wednesday, the annual college draft for America's top-tier domestic soccer league. It's where some of the most talented names from the university ranks get to find a pro club to call a home.
A total of nine from #BESoccer were selected in the @MLS SuperDraft!https://t.co/X1HdxsMNQa

— BIG EAST Conference (@BIGEAST) December 22, 2022
Several of the players selected, in fact, may be in the hunt to be significant contributors - even stars in the making - right away for their teams.
Others have difficult roads ahead to make their teams, but considering that their selections themselves indicate their talent, the players in that position have a leg up on most of their competition.
Here's a look at all the BIG EAST players picked up in the SuperDraft, along with where they might slide in with their new teams during the 2023 MLS season.
Duncan McGuire (F, Creighton)
The pick: First round, sixth overall, Orlando City SC
The fit: Orlando knows a thing or two about drafting promising forwards and turning them into league superstars. Just look back at the team's first MLS SuperDraft pick in 2015 in Cyle Larin, or its 2020 first-round selection of Daryl Dike. The two strikers turned frequent MLS goalscoring into big-money moves to Europe and caps for their national teams (Larin with Canada, Dike with the United States).
McGuire could be the next player to follow in that rich heritage.
The Nebraska native tore the NCAA apart during a breakout 2022 season, in which he won the nation's Golden Boot, leading the nation in goals with 23 - six more than the runner-up.
He's one of three finalists (along with Syracuse's Levonte Johnson and Duke's Peter Stroud) for the MAC Hermann Trophy, given to the country's best collegiate player. It will be awarded next month, and a win would make him just the second Creighton standout - along with his college coach, Johnny Torres, in 1997 - to win college soccer's top honor.
Orlando went for aggressively building its attack in the SuperDraft, having scored just 44 goals in 34 games last year.
The team selected Duke dynamo Shakur Mohammed (the Atlantic Coast Conference Offensive Player of the Year) with the second overall pick, before nabbing McGuire.
The duo could make for a gnarly combination in the Sunshine State, especially when they're being served crosses by promising winger (and Uruguay international) Facundo Torres on the outside.
Owen O'Malley (MF, Creighton)
The pick: First round, ninth overall, St. Louis City SC
The fit: It's quite possible O'Malley landed in the best situation of any BIG EAST player on this list, because ... well, there is no situation on record to begin with in St. Louis, an expansion team starting play in MLS for the 2023 season.
The first MLS SuperDraft pick in club history - City traded down from its designated No. 1 overall pick for General Allocation Money - O'Malley's role at the moment still is a bit fluid and undefined, as St. Louis works out its roster in time for its league debut Feb. 25 at Austin FC.
But nonetheless, the new team on the block will get a player who was spectacular for the Bluejays this season, tallying eight goals and six assists as one of the main components of Creighton's lethal attack.
The most likely scenario to start out for O'Malley's pro career is that he acts as key piece off the bench, especially near the touchlines, but coach Bradley Carnell - who has worked with talented midfielders in the past while on staff at previous stop New York Red Bulls such as Cristian Casseres and Kaku - likely is to explore all of what his roster can do at points during the season, as St. Louis finds an identity on the pitch.
When that identity comes, O'Malley could be a major cog in it.
Cole Jensen (GK, Xavier)
The pick: First round, 18th overall, Inter Miami
The fit: The BIG EAST's Goalkeeper of the Year, Jensen was the first shot-stopper off of the board in this year's SuperDraft for good reason.
An All-American who tallied eight shutouts and anchored a defense that finished as the league's best (16 goals allowed in 18 matches), the Iowa native has good length (6-foot-5) to shut down opposing attacks at the next level.
It's been a meteoric rise for Jensen, who had never even seen the field for the Musketeers across three seasons, before finally getting the No. 1 shirt during his redshirt junior campaign, an opportunity he did not let go to waste. He turned it all the way to a potential spot with a pro team.
Xavier goalkeeper @ColeJ_4 made program history tonight in the MLS SuperDraft.

Sound up for his big moment. #Xavier @fox19 @XUAthletics pic.twitter.com/L5OFpX0RBX

— Jeremy Rauch (@FOX19Jeremy) December 22, 2022
That experience of staying behind in the shadows may serve Jensen well at least for the beginning of his time in Miami.
Inter Miami likely selected Jensen as a pick for future development, rather than a plug-and-play starter, with Drake Callender and Nick Marsman both on the roster. The two have significant starting experience between the sticks for Miami.
Still, it's quite possible Jensen could see some time this year in cup matches or with the club's MLS Next Pro affiliate, Inter Miami II, as he adjusts to the speed of the professional game.
If he's thrown into a starting XI role sometime, history shows Jensen will be up to the task.
Stefan Stojanovic (F, Georgetown)
The pick: Second round, 57th overall, Philadelphia Union
The fit: Philly already is familiar with Stojanovic's game — the Chicago native, who last played college soccer in 2021 with the Hoyas (scoring nine goals with two assists), declared as a pro after that lone year in the nation's capital, which came after a transfer from Saint Louis.
Stojanovic signed with Philadelphia Union II of MLS Next Pro, the Union's youth team, and was drafted by the senior team Wednesday night, so his college draft rights were secured and not picked up by another club.
Clearly, Philadelphia likes the potential of the former U.S. youth international, who made 16 appearances for Union II with two goals and an assist this past MLS Next Pro season, and wants to continue to keep an eye on him and his development for the near future.
The caveat is that it might be awhile, because Philly is loaded.
The Union were one of the standout clubs of last year's MLS season, making a run to the MLS Cup final, while being level on points in the regular season (67) with Supporters' Shield winners Los Angeles FC.
With a lethal attack that scored a MLS-high 72 goals, it's going to be tough for the time being for Stojanovic to break through into the senior side, but Philly does have a history of playing (and relying on) its youth.
A good example of that was when current Leeds United and U.S. national team standout Brenden Aaronson was one of the star's of the Union team that won the 2020 Supporters' Shield, despite being aged 19 for most of the season.
Aidan Rocha (MF, Georgetown)
The pick: Third round, 60th overall, D.C. United
The fit: It's a tough - but not impossible - task to carve a stellar MLS career out of being picked in the late rounds of the MLS SuperDraft.
Standouts Nick Rimando, Michael Bradley and Geoff Cameron all were picked in the third round or later and ended up between them being named to MLS Best XI teams, winning the MLS Cup and appearing in the World Cup for the United States, among other accolades.
It's definitely not fair to Rocha to put that expectation on him at this moment, but he's landed at a club situation with a lot of moving parts - giving the Hoyas standout a major opportunity to break through and make a difference, as nearly every role on the team is up for grabs.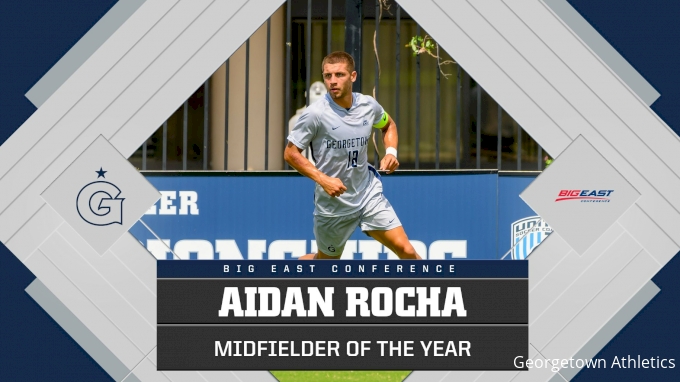 United's 2022 season was one defined by a terrible product on the pitch (a league-low 27 points) and turmoil in the front office, with Hernan Losada fired after 14 months in charge, and general manager Lucy Rushton canned after the year's conclusion.
Former player Wayne Rooney - yes, the England and Manchester United legend - will try to continue to right the ship. He was hired in July following Losada's sacking, and looking local for their second of two SuperDraft picks in Rocha may not be a bad strategy.
Rocha was the BIG EAST Midfielder of the Year, scoring three goals and tallying three assists, and he'll look to make his mark in the middle for D.C.
Frantz Pierrot (F, UConn)
The pick: Third round, 63rd overall, Houston Dynamo
The fit: Houston was one of the lowest-scoring teams (43 goals) in all of MLS last season, perhaps helping the case of Pierrot - the brother of Haiti international and Maccabi Haifa striker Frantzdy Pierrot - as he now attempts to make the Dynamo roster.
The 6-foot-1 attacker tallied five goals in his lone season at UConn as a grad transfer from Merrimack, helping the Huskies look solid at times in the BIG EAST this season under program playing legend and first-year coach Chris Gbandi.
Pierrot also had a proficiency of doing more with less on the pitch - he never played a full 90 minutes during the 2022 season, but his 46 shot attempts across 16 games showed he always had an eye for the goal at the college level.
Pierrot is more likely bound for Houston Dynamo 2, so Houston can see if it finds a fit for him there, but he's worth keeping an eye on.
Makel Rasheed (D, Xavier)
The pick: Third round, 65th overall, Nashville SC
The fit: Since joining MLS in 2020, Nashville is growing a reputation as a place for defenders, with center back Walker Zimmerman being the league's back-to-back reigning Defender of the Year (and a starter for the United States during the recently World Cup) and right back Alistair Johnston turning a solid stint at Nashville into a move to CF Montreal and then, in a recent development, a move to Scottish giant Celtic.
Could Rasheed be the next player in a Nashville back line to thrive?
Odds are tough to make the team, considering where he was picked, but Rasheed paired well with goalie Jensen to help make up one of the BIG EAST's best defenses a season ago and overall has had a fantastic rise in stock since spending three seasons before his move to the Musketeers at Division II's University of Indianapolis.
Maybe the Maryland native could surprise.
Wilmer Cabrera Jr. (MF, Butler)
The pick: Third round, 76th overall, Chicago Fire
The fit: Chicago didn't have a pick until the third round, and with the final of its trio of selections in the round, it selected Cabrera, a player MLSSoccer.com grouped in with the other two picks as an "interesting" choice.
Considering Cabrera is one of the most decorated players in BIG EAST history and has a wealth of pro and academy experience already, perhaps the choice could turn into a downright shrewd one.
Streberger sets up Cabrera, Jr. who finds the back of the net! pic.twitter.com/DYd7Qthj2H

— Butler Men's Soccer (@ButlerMSoccer) October 1, 2022
A three-time All-BIG EAST first-team selection who played a year for the Rio Grande Valley Toros FC of the second-tier USL Championship, before he ever played a minute of college soccer, Cabrera dazzled in Indianapolis. He finished with 23 goals and 12 assists across 69 games (all starts) during his time with the Bulldogs.
The son of the former Colombia international and MLS coach of the same name, Cabrera's footballing background and development is about as good as it can get, and it could snag him a roster spot with the Fire down the line.
Lyam MacKinnon (F, Villanova)
The pick: Third round, 84th overall, Nashville SC
The fit: Villanova's two-time leading and reigning season-long goal scorer, the Swiss striker was a four-year starter with the Wildcats and took the program to new heights, winning 'Nova its first NCAA Tournament game in 2021 by scoring the only goal in a 1-0 victory over Vermont.
Now, those efforts have earned him a selection to Nashville, where he'll join Rasheed - whom he battled in a 2-1 loss to Xavier in October. In that game, MacKinnon scored the Wildcats' goal - in fighting for a spot on a roster that includes reigning MLS MVP and star midfielder Hany Mukhtar.
The major advantage for MacKinnon is that some of Nashville's top forwards aren't getting any younger: C.J. Sapong (33 years old), Teal Bunbury (32) and offseason acquisition Fafa Picault (31) all are on the wrong side of 30, giving Nashville's attacking selections - including MacKinnon and second-round pick Alex Meinhard (29 goals in 39 games at Tulsa) - some extra hope of making a difference by injecting new blood into the front line.